Welcome to our handy guide to help you find the best air fryers on the market today. 
A healthier option than traditional deep frying, air fryers simulate the mechanism of deep frying in oil by circulating hot air at high speed. This produces the same browned, crisp layer of food and cooks it throughout. If you enjoy fried food but don't want to pay the price for it physically, an air fryer is a great option.
In our free and independent guide, we will look at a range of models to find something suitable for your needs. All of the air fryers we mention here have been favourably reviewed and comprehensively tested by consumer champions and industry publications; so you can be sure of the best possible quality and performance.
Read on for our top 10 picks of air fryers on the market right now…
Best Air Fryers 2021 – The Results
Check out the overall winners in our tests below and simply follow the links or read our thoughts further down the page.
Best Overall Air Fryer
Best Mid-Price Air Fryer
Tefal ActiFry Genius+ Air Fryer
Best Cheap Air Fryer
Most Stylish Air Fryer
Morphy Richards 480005 Air Fryer
NINJA Foodi Dual Zone Air Fryer
At Best Companies we test and review products awarding and selecting the very best based on a number of factors. We are independently owned and the views expressed are our own. We may receive a small commission from the companies we review; this helps us keep our product review pages free of subscriptions for you. Prices of models are updated monthly but check with retailers websites.
We hope you enjoy the guide and find the air fryer you are looking for.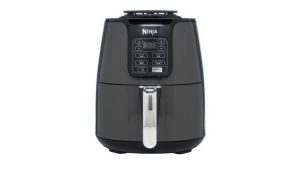 The NINJA AF100 is a great compact air fryer with just under a 4 litre capacity.
Different settings allow for different food groups to be cooked, including a Roast setting and Dehydrate setting. Even last night's pizza can be reheated in this small but perfectly formed air fryer and it's a great starter fryer for those who haven't had one before.
SUMMARY: A hugely popular and very effective air fryer, it scored highly in all our tests. Joint overall winner and highly recommended.
For more information or to buy this model click here.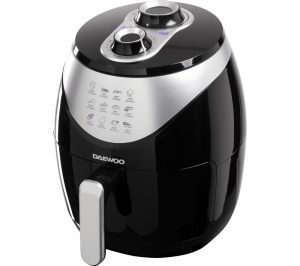 A single function air fryer, the Daewoo SDA1861 packs a punch for its price tag with a 4 litre capacity.
Its simple and intuitive operation has a single dial for temperature and another for a 30-min timers, with its parts removable for easy and quick hand washing.
SUMMARY: A great model for everyday use, with a variety of timers and easy to use. This was popular with families and mid-size households. Great value for money at an attractive price point.
For more information or to buy this model click here.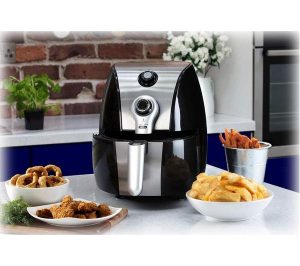 The TOWER T17022 can cook with no oil at all, making it a fantastically healthy piece of kit for those looking to improve their diet.
It boasts a generous 4.3 litre capacity – very competitive given its low price tag – and is simplicity personified. A single dial operates temperature and another the timer.
SUMMARY: The Tower is another leading brand in the air fryer world. With a good capacity, it can also cook with no oil at all for those looking for a healthy option. Plus it's stylish to boot! Highly recommended.
For more information or to buy this model click here.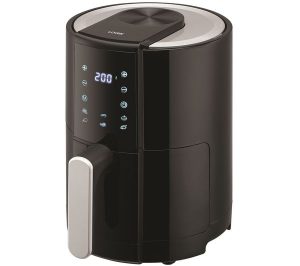 The LOGIK LAF20 is super compact and has a capacity of just under 2 litres.
It heats up super quickly and is ready to cook right away with little or no oil at all. It has a variety of pre-set programs to cook meat, fish, baked goods and other foods and can take on just about anything for a healthy fry.
SUMMARY: A hugely popular, this model fits discreetly into any modern kitchen. It can cook a whole range of foods and although it comes with a large price tag, you won't be disappointed. The joint overall winner.
For more information or to buy this model click here.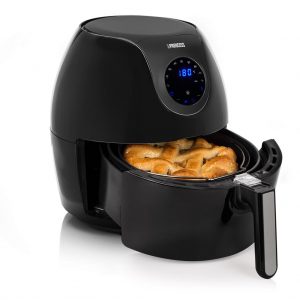 A compact and very smart looking air fryer, the Princess 182050 requires only a couple of spoonfuls of oil per load.
Seven pre-set programs take care of most food types at the touch of a button and with over a 5 litre capacity, you can cook even for a whole dinner party of people at once.
The removable basket is dishwasher safe; although for most foods, you can just pop it out and give it a quick rinse, as it's non-stick and very easy to clean.
SUMMARY: The Princess is a popular model and it was easy to see why. Easy to use, easy to clean and with an impressive capacity, it's great for families and busy households.
For more information or to buy this model click here.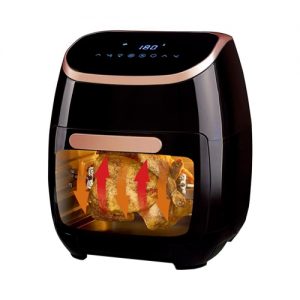 An air fryer oven rather than a standard fryer appliance, the Tower Vortx oven has two airflow racks and a rotisserie skewer.
It has a whopping 22 litre capacity – more than enough to cook a few meals at once! Its heat resistant glass means you can watch cooking progress as it happens, and there's an automatic shut off function that can be set to avoid burning your dinner.
SUMMARY: More of an air oven, The Tower performed great in our tests and is a great addition to any kitchen. The rotisserie was very impressive – great for chicken lovers!
For more information or to buy this model click here.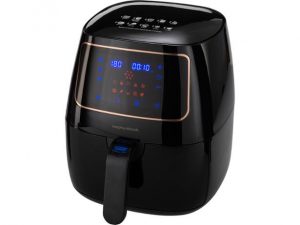 Able to take on everything from burgers to cupcakes, the Morphy Richards 480005 can fry, bake, grill and roast food at just a touch of the button and with only a spoonful of oil!
The 3 litre capacity allows for up to six portions of food to be cooked at once and the 12-hour delay function means that you can walk in through your front door after a long day out to your dinner ready and waiting.
There are 8 pre-programmed settings for different types of food to take the guesswork out of timings.
SUMMARY: A fantastic Morphy Richards air fryer enters the guide – and it is a brilliant one at that! With the ability to cook a range of foods and a host of pre-programs to choose from, whatever you are looking for in an air fryer you won't be disappointed.
For more information or to buy this model click here.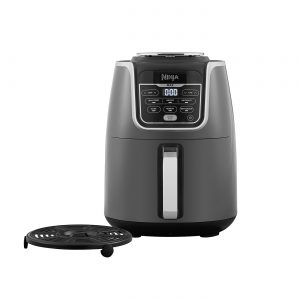 The NINJA AF160 can cook everything from steaks to cakes with just a single spoonful of oil, using its impressive 240c air temperature to cook through everything evenly.
The 5.2 litre capacity is ideally sized for family meals, and the dehydrate function works well for fruit and vegetables too.
SUMMARY: The Ninya was another great option, able to cook a variety of meal options, it looks great in any kitchen. Very popular.
For more information or to buy this model click here.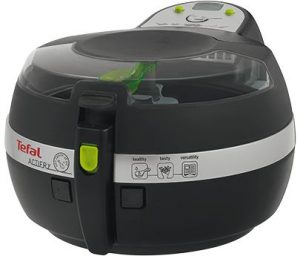 A small but perfectly formed air fryer sized well for those living alone or as part of a couple, the Tefal ActiFry has nine automatic programs for ease of use and fast dining. There's even a wok mode for flavoursome stir-fries and a world food one for tagines and curries.
What's more, the touchscreen interface makes it super easy to use and the Tefal app has hundreds of recipes available created specifically for this fryer.
SUMMARY: This great Tefal model is a popular model for those with busy lifestyles. Great for a whole range of cooking options.
For more information or to buy this model click here.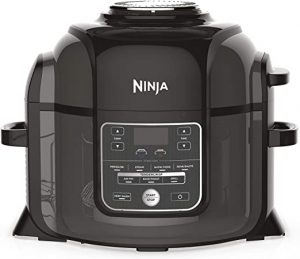 Requiring just one spoon of oil for a full fried food cook, the NINJA Foodi uses over 75% less fat than traditional frying methods.
Two zone cooking allows for different foods to be cooked simultaneously, so you cook meat and other foods for a full meal at once.
Even better, the NINJA Foodi has a dishwasher safe basket for easy cleaning. It has a 7.6 litre capacity and digital timer.
SUMMARY: The Ninja Foodi is a popular option for the health-conscious. A decent capacity and attractive budget, makes it worth checking out.
For more information or to buy this model click here.
Frequently Asked Questions
What's the best air fryer on the market?
We think the best air fryer on the market are Ninja AF100 and Logic LAF20
However, there is no one stand out model of air fryer but rather many different types that will each suit households differently.
Those cooking lots of portions and various foods at once will need a large capacity and perhaps an air fryer oven rather than just a fryer.
For those living on their own, a smaller air fryer may suffice, and for those who don't spend all day at home, something with a delayed timer function is likely to work best.
What are the top 3 air fryers?
We think the 3 top 3 air fryers are:
However, what constitutes the top air fryer for one person may not for another, so there are no league tables of appliances to refer to. However, the three most common brands of air fryer on sale in the UK right now are Tefal, NINJA and Logik. All are household names and all can be relied upon for comprehensive and competitive customer service should something go wrong.
Do air fryers smell?
Most air fryers do smell slightly when cooking and for the first few uses, you may be able to detect the plastic heating up.
The food cooking within may also smell slightly, but that's to be expected – although it may not be the case in those air fryers that seal entirely. Your air fryer should never smell any more than an odour that would be neutralised by opening a window.
Do air fryers use oil?
Although air fryers cook with the circulation of very hot air, most do require a spoonful or two of oil to cook.
There are now some models of air fryer available that don't require any oil at all and so do truly cook on air alone.
Other Popular Questions About Air Fryers
Here are some more questions we get asked about an air fryer:
Which is the best air fryer in the UK?
We think the best air fryer in the UK at the moment is the NINJA.
Not all air fryers are built equal – but they're not intended to be. It is always recommended that you seek out independent reviews of air fryers before you make a purchase decision, and when doing so, consider how similar the reviewers requirements are to your own. If you have a family of six to cook for, a review recommending an air fryer from someone who lives alone may not quite be as appropriate as you immediately assume.
Are air fryers good for cooking chips?
Air fryers are great for cooking chips and for doing so in a healthier way than they are traditionally!
Although a common misconception is that air fryers are only good for cooking chips, in reality they can cook many things – from shrimp to steak to chips to cupcakes.
Are air fryers noisy?
Most air fryers do emit a small noise as the air circulates through the cooker and it whooshes about. This may be accompanied by some crackling noise as the outer layer of the food crisps up and in some cases, the food may 'jump' within.
Are air fryers economical?
Air fryers are economical and only require constant power when they're on and cooking, but can be turned off completely when not in use. Air fryers are cheaper to power than ovens as they require less power so overall, they do usually work out more economically.
What is an air fryer?
An air fryer is a countertop convection oven that works to cook food quickly and healthily by mimicking deep oil frying through the circulation of extremely hot air.
How does an air fryer work?
Air fryers work by circulating extremely hot air quickly around the food within it; cooking it through and creating a scientific reaction that imitates deep frying without the need for oil. This reaction is called the Maillard reaction and is the occurrence of an amino acid-reducing sugar in the presence of heat. This alters both the colour and flavour of foods – creating the crispy brown layer you'd usually see during traditional frying.
Is it worth buying an air fryer?
If you enjoy fried foods but would prefer a healthier option than dousing your food in oil, it's definitely worth buying an air fryer to improve your diet and the taste of the food you're consuming.
Summary of the Best Air Fryers in October 2021
We hope you have enjoyed our guide to the best air fryers on the market today.
We have looked at a range of models and different budgets – so whatever your needs these great air fryers will hopefully be putting a big smile on your face!