Welcome to our handy guide to help you find the best beard trimmers on the market today. 
A must-have in any man's grooming toolkit is a proper beard trimmer – able to maintain face fuzz to a smart and presentable style or to trim it down for those who wish to get as clean-shaven as possible. But now that beards are so on-trend and maintenance products are so widely available, what are the benefits of each model of beard trimmer? Here's our top 10 guide to help you make an informed purchase decision and get that facial hair looking tip-top as soon as possible…
In our free and independent guide, we will look at a range of models to find something suitable for your needs. All of the beard trimmers we mention here have been favourably reviewed and comprehensively tested by consumer champions and industry publications; so you can be sure of the best possible quality and performance.
So sit back and find the most appropriate beard trimmer for you.
Best Beard Trimmers in 2023
Check out the overall winners in our tests below and simply follow the links or read our thoughts further down the page.
Best Overall Beard Trimmers
Panasonic GB86 Wet & Dry Beard Trimmer – £99.99
Remington MB6850 Beard Trimmer – £69.99
Best Mid-priced Beard Trimmers
Braun BT5260 Beard Trimmer Set – £40.99
Braun 7-in-1 Beard Trimmer Set – £41.99
Best Cheap Beard Trimmers
Remington MB320C Barba Beard Trimmer – £27.99
Philips OneBlade Wet & Dry Foil Shaver – £27.99
Most Stylish Beard Trimmers
Philips Series 7000 Vacuum Beard Trimmer – £79.99
Panasonic GB62 Hair and Beard Trimmer – £56.99
At Best Companies we test and review products awarding and selecting the very best based on a number of factors. We are independently owned and the views expressed are our own. We may receive a small commission from the companies we review; this helps us keep our product review pages free of subscriptions for you. Prices of models are updated monthly but check with retailers websites.
We hope you enjoy the guide and find the beard trimmer you are looking for.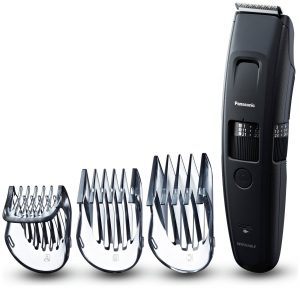 The first in our guide is the brilliant Panasonic Wet 7 dry trimmer!
A fantastic addition to the grooming kit of anyone who trims their facial hair regularly, the Panasonic GB86 comes with three attachments for 58 cutting lengths and works just as well with long, full beards as it does stubble. It can be used either corded or cordless and has a 50-min battery life from a single charge.
SUMMARY: This brilliant model scored highly in all our tests. A great battery life and a huge amount of cutting lengths, it rated top across the board. Highly recommended.
For more information or to buy this model click here.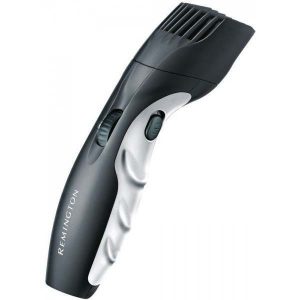 A fantastic budget option, the Remington Barba beard trimmer requires very little maintenance but comes with an impressive nine length settings!
The pop-up trimmer allows for intricate styling creation and a cleaning brush is included to keep the trimmer free of fuzz.
SUMMARY: A great cheaper option from this leading brand, this was a popular version although slightly larger than other models performed very well. It was awarded the best cheap beard trimmer.
For more information or to buy this model click here.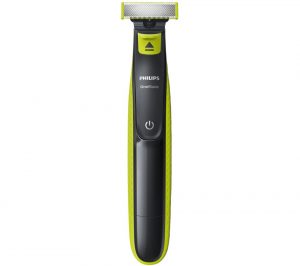 The Philips OneBlade can shave, trim or edge any length of hair and can be used wet or dry; and even with or without foam. Three different work with a dual-sided blade for optimal visibility and a comfortable feel.
SUMMARY: A small and nipple beard trimmer we thought this model was great for daily maintenance and when travelling.
For more information or to buy this model click here.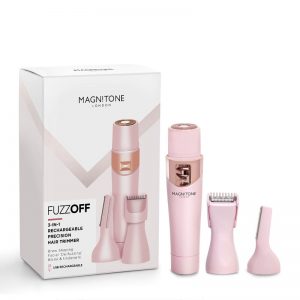 The perfect trimmer for those with sensitive skin and/or thin hair, the Magnitone Fuzz Off works with even the most delicate of hair for a close trim and can be used all over the body.
SUMMARY: The Magnitone was great for men and women, especially good for more sensitive areas. It was cheap and handy for a variety of uses.
For more information or to buy this model click here.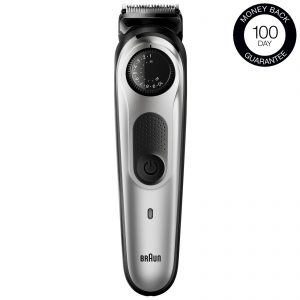 The Braun BT5260 comes as part of a full set including everything you need to keep your beard tidy – the beard trimmer, a Gillette razor for full removal and various combs and attachments for different styles.
The trimmer boasts an impressive 39 length settings and is fully washable so can be rinsed under the tap once you're finished.
SUMMARY: This great model both looked stylish and performed really well. With a great variety of length settings, it achieved amazing results. Recommended!
For more information or to buy this model click here.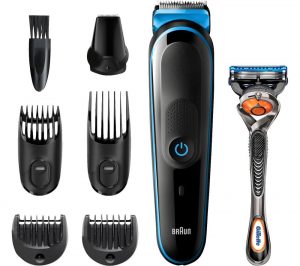 Another set from Braun, the 7-in-1 set includes the MGK3245 electric beard trimmer (with up to 80-mins of battery life from a single charge), a Gillette razor for close shaving and five different attachments for varying styles and lengths. Just choose your comb and get trimming!
SUMMARY: This multi-buy set offered great value for money, for all your beard trimming and shaving needs. All
For more information or to buy this model click here.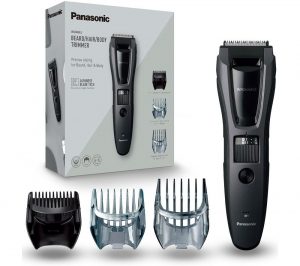 The Panasonic GB62 is entirely cordless so there's no awkward wire placement when you're trying to reach difficult spots. Three different combs and 39 cutting lengths cater for all styles and it can handle full head hair as well as just facial. The GB62 is water washable for easy maintenance.
SUMMARY: Another top model from Panasonic, this was a stylish-looking model which was practical and easy to use. Great results across the board.
For more information or to buy this model click here.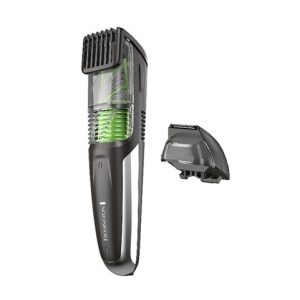 A great model of beard trimmer for on-the-go use, the Remington MB6850 has a 60-min battery life from a single charge.
A full sized trimmer for both a beard or just stubble, it comes with a precision attachment and has a vacuum chamber to catch excess trimmings.
SUMMARY: A solid performer in our guide, this Remington model was attractively priced and is definitely worth considering.
For more information or to buy this model click here.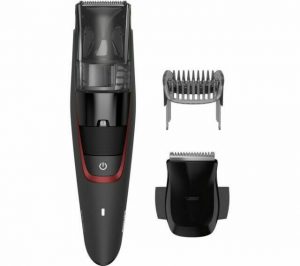 20 length settings, cordless use and a precision trimmer really combine to make the Philips 7000 Vacuum beard trimmer special.
The vacuum technology sucks up hair trimmings as it works so you don't need to worry about hair littering the room – ideal for those travelling or in busy living situations.
SUMMARY: This was a great model, the vacuum suction lifting away hair and making shaving and trimming both easy and accurate. Another popular model to consider.
For more information or to buy this model click here.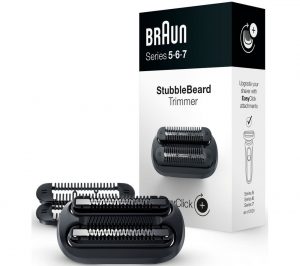 If you already own a Braun electric shaver from either series 5, 6 or 7, there's no need to buy a new beard trimmer – just pick up this attachment and convert your shaver! It clicks on simply and comes with four different combs. The attachments and combs are all fully washable for easy maintenance.
SUMMARY: Not necessarily a trimmer but these attachment were attractively priced and worth a mention!
For more information or to buy this model click here.
Popular Questions
Which is the best beard trimmer to buy?
Which beard trimmers do barbers use?
Barbers use a whole host of different beard trimmer types, so if you have a trim with one you really like, ask them!
Usually barbers will opt for a heavy duty model with adjustable heads and combs in order to offer the best possible service for their customers no matter their hair type or beard style.
How do I choose a beard trimmer?
To choose a beard trimmer it's best to use our guide. Your purchase decision for which beard trimmer to buy should be dictated by your budget and trimming requirements.
Ask your barber for advice and check which trimmers come with free trial periods in case you'd like to try before you decide.
Other Frequently Asked Questions
Do beard trimmers work?
Beard trimmer work – absolutely!
Beard trimmers are fairly mainstream in the house of anyone sporting facial hair now and are a considerably easier option than standing in front of a mirror and hacking away with scissors to try and get an even finish and style.
Which brand is best for beard trimmers?
The best brand for beard trimmers include Remmington and Phillips but our guide will run through all the best ones around.
Beard trimmers are now so widely available that there are lots of brands manufacturing them, so you can expect to see all the usual big names in male grooming with their own models.
Generally speaking, there's no one overarching popular brand but rather a great variety in form and function, so there's truly something for everyone available on the market.
Summary of the Best Beard Trimmer in December 2023
We hope you have enjoyed our guide to the best beard trimmers on the market today.
We have looked at a range of models and different budgets – so whatever your needs these great beard trimmers will hopefully be putting a big smile on your trimmed and styled face!