Welcome to our handy guide to help you find the best Fitbit on the market today. 
Fitbit manufactures a range of smartwatches and fitness bands that track steps, exercise, weight and heart rate in order to help promote happier, healthier activity in day-to-day life. These devices link with apps on smartphones for users to view progress and log activities. You'll probably have seen people wearing Fitbit devices, but with so many now available what are the differences between them? Let us guide you on your health and fitness Fitbit journey…
In our free and independent guide, we will look at a range of models to find something suitable for your needs. All of the Fitbits we mention here have been favourably reviewed and comprehensively tested by consumer champions and industry publications; so you can be sure of the best possible quality and performance.
Read on for our top picks of Fitbit's on the market right now…
Best Fitbit in 2022
Check out the overall winners in our tests below and simply follow the links or read our thoughts further down the page.
Best Overall Fitbit
Fitbit Charge 5 Fitness Tracker
Best Mid-priced Fitbit
Fitbit Charge 4 Fitness Tracker
Best Cheap Fitbit
Fitbit Versa 2 with Amazon Alexa
Most Stylish Fitbit
Fitbit Versa 3 and Aria Air Smart Scale Bundle
At Best Companies we test and review products awarding and selecting the very best based on a number of factors. We are independently owned and the views expressed are our own. We may receive a small commission from the companies we review; this helps us keep our product review pages free of subscriptions for you. Prices of models are updated monthly but check with retailers websites.
We hope you enjoy the guide and find the Fitbit you are looking for.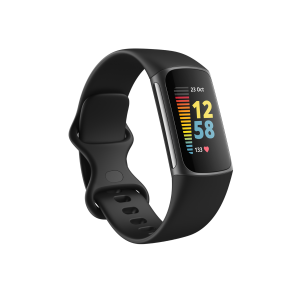 The first in our guide is the superb Fitbit Charge 5. Popular with very good reason!
A waterproof and slimline fitness tracker, the Charge 5 has a small display and appearance but packs a punch in terms of functionality as well as form. A built-in GPS and heart rate monitor tracks users as they go about their daily tasks and it tracks Active Zone minutes through steps, distance, calories and sleep.
SUMMARY: The Fitbit 5 doesn't just look amazing but it has all the functions and more you would want from a Fitbit. It came out top in all our tests. Joint overall winner.
For more information or to buy this model click here.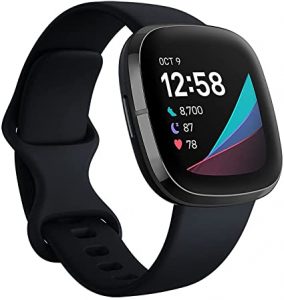 One of the more expensive Fitbit models, the Fitbit Sense has PurePulse 2.0 technology inbuilt – Fitbit's most advanced tracking computing. But can it live up to the price tag? The simple answer is, yes!
The Sense monitors users through sleep as well as waking hours and can even wake you through gentle silent alarms when you reach peak rest.
Alexa and Google Voice are both included for easy voice commands and over 20 fitness programs allow for flexible fitness. The Fitbit Sense can even automatically detect what type of exercise you're doing!
SUMMARY: Although one of the most expensive Fitbits on the market the Fitbit Senese is also one of the best. Whilst looking stylish, its functions go above and beyond what you would normally expect from a standard Fitbit. A truly top-class model.
For more information or to buy this model click here.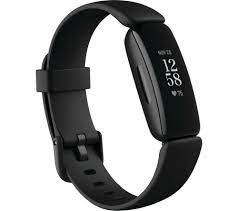 If you are looking for a simple Fitbit at a great price point  – look no further.
A basic heart rate monitor, the Inspire 2 is a slimline fitness band that monitors steps, swimming, heart rate and distance, as well as to keep you in the right heart rate zones as you workout.
As a basic band, it has a competitive battery life of up to 10 days, so you don't need to remember to charge it every single night.
SUMMARY: The Fitbit Inspire is a great model for those just starting to use a Fitbit. It's great for those using it for practical exercise. Joint best cheap Fitbit.
For more information or to buy this model click here.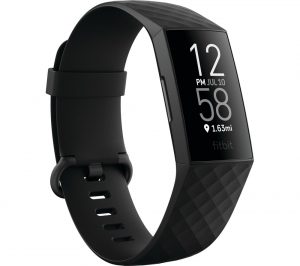 The Fitbit Charge 4 looks like the Fitbit trackers of old and you've probably spotted something similar around someone else's wrist.
It is water-resistant, compatible with sleep monitoring as well as exercise and activities, and syncs with Spotify for musical motivation.
SUMMARY: Another solid entry in the guide, whilst it doesn't have all the mon-cons of some of the more advanced models, this sleek version has everything most people require on a day to day basis.
For more information or to buy this model click here.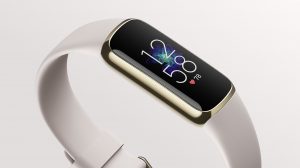 Looking more like a sleek watch than a practical Fitbit, the Luxe combines results with glamour.
A sleek and luxe aesthetic makes the Fitbit Luxe look more fashion accessory than a fitness tracker, but it definitely works as both! The colour amoled display presents key stats and subtly delivers notifications to your wrist for you to peruse whenever you're ready.
SUMMARY: If you are looking for something a little more stylish to wear on a day to day basis that the Luxe Fitbit could be for you. Almost like a piece of jewellery but doing all the work for a Fitbit it's a great option for many.
For more information or to buy this model click here.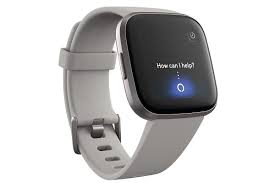 The Versa 2 is a slightly older model of Fitbit but still, a great buy.
15 fitness programs combined with this being the first Fitbit to include Amazon Alexa means that you needn't put your workout on hold for anything – you can get the weather forecast, make a note or load a playlist as you go!
SUMMARY: A slightly older and chunky model, the FitBit Versa 2 is still a great version. It also comes at a great price point. Recommended.
For more information or to buy this model click here.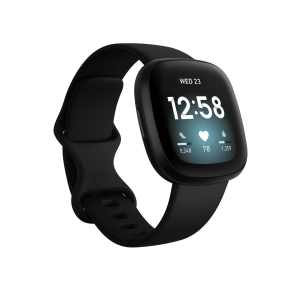 The Versa 3 is a chunky smartwatch compatible with voice commands directly in. It can be synced with contactless payments for fitness purchases on the go and tracks a user's health and fitness through a variety of measures simply as they wear it and go about their day.
The impressive battery life can last over 6 days at a time and it links with iOS and Android smartphone devices.
SUMMARY: A popular Fitbit with good battery life, it does everything and more.
For more information or to buy this model click here.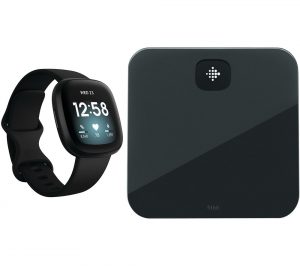 For those money-savvy out there looking for a bargain – this bundle is a great buy!
A bundle including the Fitbit Versa 3, also includes an Aria Air Smart Scale. The Aria Air Smart syncs wirelessly with the Fitbit app for accurate and up-to-date weight tracking. What's more, it can be used by multiple members of your household through a simple Bluetooth connection.
SUMMARY: Offering superb value, this bundle caught our eye at a great price. If you are starting on your Fitbit journey, then this is everything you need!
For more information or to buy this model click here.
Popular Questions
Which is the best Fitbit to buy?
The best Fitbits to buy are:
Fitbit makes a variety of smartwatches, fitness trackers and accessories so there's something for everyone.
Those who only require basic monitoring may find that the best Fitbit for them is a more basic tracker, but those who work out often and would prefer more of an intensive overview may prefer to invest in a more expensive and comprehensive model. It is worth researching all of the Fitbit functionality available to find the most appropriate and helpful tracker model for you.
What is the cheapest Fitbit?
The cheapest Fitbits currently available are the basic fitness trackers such as the Inspire 2, which retail for less than £70.
Is it worth getting a Fitbit?
It is worth getting a Fitbit if you need some motivation to get up, out and at 'em – it's absolutely worth investing in a Fitbit.
Being able to track your progress and monitor your health journey can be hugely inspiring and doing so as easily as just wearing something on your wrist requires minimal effort to start on the way.
Frequently Asked Questions About Fitbits
Here the most  popular  questions we get asked about Fitbits:
Which Fitbit is worth the money?
We think that the Fitbit Charge 5 and Fitbit Sense are worth the money, however, all the ones we mention in our guide are worth looking at.
Fitbit makes fantastic products and so far, all of them present great value for money – including when compared against other fitness tracker products made by competing manufactures.
Exactly how much money is worth investing into a Fitbit depends on your own health and fitness monitoring preferences; however, generally speaking, it is worth spending money on a newer model that will last longer and remain supported by the collaborative technology (ie. smartphone apps) than it is an older one which may hit the end of its service life sooner.
Which is better: Fitbit 3 or Fitbit 4?
The Fitbit 4 is better than the Fitbit 3 – just!
The Fitbit Charge 3 and Fitbit Charge 4 were released just a year apart and look almost identical. Functionality wise, the two models are very similar, but the Charge 4 includes onboard GPS so that activities can be tracked without the need to carry a smartphone with you too.
Which Fitbit is the most accurate?
Although no Fitbits are inaccurate, the newest technology is the PurePulse 2.0 programming. This is the most recent and up-to-date fitness tracking tech available on the market and so those models including this are currently the most accurate.
What's the best Fitbit for women?
While men and women may experience the physical changes presented by health and regular exercise, the tracking of such activity really need not differ quite so much. The best Fitbit for any gender is dictated by the most appropriate model for the individual and their own fitness needs.
What's the newest Fitbit?
The newest models of Fitbit are the Fitbit Sense and Fitbit Versa 3, but usually, the company issues new models every year; often one basic tracker and one more comprehensive smartwatch.
Summary of the Best FitBits in June 2022
Fitbits have exploded in popularity over the last few years and there are lots to choose from and consider.
In our guide, we have looked at different models and price points so you can find something suitable. Before purchasing it's also best to think about the functions that you require and are going to use.
It's often better to start with a simple model to start with to check that using a Fitbit is for you.
We hope you have found the guide useful and found the best Fitbit for you!