Welcome to our handy guide to help you find the best hair dryers on the market today. 
No matter the length, style or type of your hair, chances are that you'll need a hair dryer at some point. The market plays host to a huge variety of models of hair dryers to suit all budgets – but with such a huge array of products available, where should you start? Let us guide you to dry, happy, healthy hair with our top 10 hairdryers on the market right now…
In our free and independent guide, we will look at a range of models to find something suitable for your needs. All of the hair dryers we mention here have been favourably reviewed and comprehensively tested by consumer champions and industry publications; so you can be sure of the best possible quality and performance.
So sit back and find the most appropriate hair dryers for you.
Best Hair Dryers in 2023
Check out the overall winners in our best hair dryer UK tests below and simply follow the links or read our thoughts further down the page.
Best Hair Dryers Overall Winners
Dyson Supersonic Hair Dryer – £299.00
Panasonic Nanoe & Double Mineral Advanced Care Hair Dryer – £169.00
Best Mid-price Hair Dryers
Grundig Touch Control Hair Dryer – £49.99
Toni & Guy 5374 Hair Dryer & Styler – £99.99
Best Cheap Hair Dryer
Revlon 5251 Hair Dryer – £29.99
Nicky Clarke 201 Hair Dryer Set – £39.99
Most Stylish and Best Ionic Hair Dryer Uk
Glamoriser Lightspeed Hair Dryer – £150.00
Remington Air3D Hair Dryer – £74.99
At Best Companies we test and review products awarding and selecting the very best based on a number of factors. We are independently owned and the views expressed are our own. We may receive a small commission from the companies we review; this helps us keep our product review pages free of subscriptions for you. Prices of models are updated monthly but check with retailers websites.
We hope you enjoy the guide and find the hair dryers you are looking for.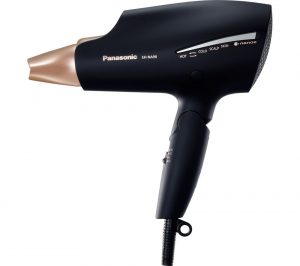 A portable but powerful model of hair dryer, the Panasonic Nano & Double Mineral dryer has four heat modes that can be switched between during use for a salon quality finish.
The Intelligent Temperature setting adjusts the heat of the airflow while using it to avoid damage to the hair and scalp, and the nanoe tech within keeps hair moisturised as it dries. There's even a Scalp and Skin mode to dry and moisturise other areas of the head rather than just the hair. The 2.7m power cord makes it easy to use anywhere in a room and the foldable handle keeps it easy to store away.
SUMMARY: A brilliant hair dryer it scored highly in all our tests, delivering salon-style results every time. Highly recommended.
For more information or to buy this model click here.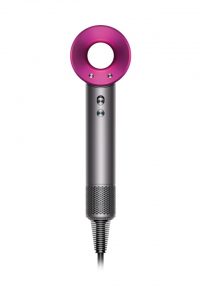 The Dyson Supersonic hair dryer comes with a hefty price tag but if you dry your hair often, this is the model for you.
Air Multiplier technology within focuses air output for a super quick dry that doesn't concentrate heat in any one small spot: preventing irreversible damage through a gentle and low-force airflow that allows even the most intricate of hairstyles to be sculpted perfectly.
Acoustically tuned, the Dyson Supersonic is much quieter than more traditional hair dryers and is lighter as its small but powerful motor fits into the handle. It comes with additional tools including a concentrator, diffuser and flyaway tool.
SUMMARY: A brilliant model from Dyson, it looks unlike many hair dryer models but delivers outstanding results. Small, powerful and light it was our joint overall best winner.
For more information or to buy this model click here.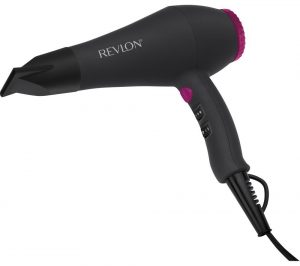 The Revlon 5251 hair dryer packs a real punch given its low price tag; so don't be fooled that you're buying a cheap choice with no real value.
Despite its budget level, it has tourmaline ionic technology built in to reduce static and a ceramic coating to prevent over-heating by distributing the air quickly and evenly.
SUMMARY: This smart Revlon was a real surprise package, it delivered great results for a small price tag. It was named best cheap hair dryer.
For more information or to buy this model click here.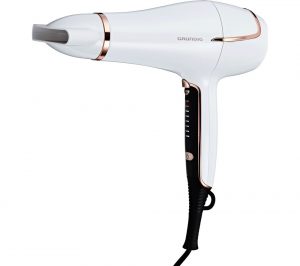 The Grundig Touch Control hair dryer has eight different temperature settings and a Cool Shot program to help set your hairstyle for the day.
This model is lightweight and ergonomic, moulded symmetrically for ease of use by those both right-handed and left-handed. The extra-long cable gives a good reach no matter how far from a power plug you are; a bonus in a lower-priced model that isn't often included!
SUMMARY: The Grundig model was rightly hugely popular and performed well in our tests. It delivered solid results and was great for everyday use. Definitely worth checking out.
For more information or to buy this model click here.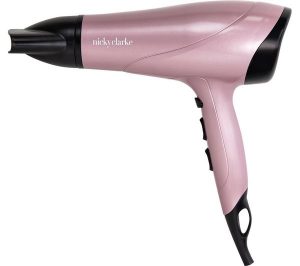 An all-in-one stying set, the Nicky Clarke 201 includes a 2000-watt hair dryer with three heat programs and two speeds, a Cool Shot setting and a concentrator nozzle alongside a ceramic radial hairbrush and a cosmetics bag to store them both in alongside your favourite hair products and accessories.
This set makes for a great gift for someone who likes to look after their hair.
SUMMARY: A model which performed great and was at a very reasonable price. Especially popular as a gift, was great for a variety of hair lengths and finishes.
For more information or to buy this model click here.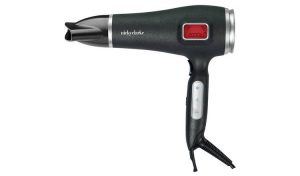 Celebrity stylist Nicky Clarke knows a thing or two about red carpet hair care, and the Hair Therapy hair dryer from his range of products offers a great mid-range option. 10 combined heat and speed settings work for all styles and can be regulated with a digital display and touch controls.
SUMMARY: Another great model from Nicky Clark, this one came with 10 different settings, meaning it was great for all hair types and styles. This was a fantastic mid-priced option.
For more information or to buy this model click here.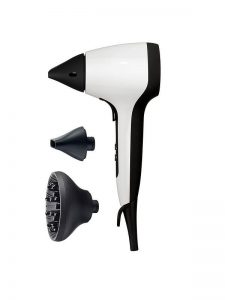 Named after its mixing 3D air currents and ionic treatment, the Remington Air3D blasts air in a different way to standard hair dryers to lessen frizz and keeps length sleek.
The distinctive headlights up either blue or white depending on the air temperature working through it, and a diffuser and two precision nozzles are included for differing drying styles.
SUMMARY: This Remmington was especially good on curly hair, helping to rid the dreaded frizz. Stylish and small it was easily portable. Definitely worth checking out.
For more information or to buy this model click here.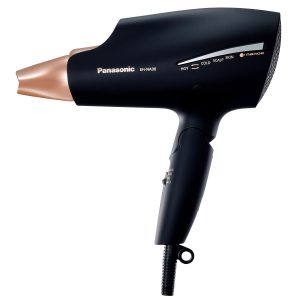 Nanoe technology in this Panasonic hair dryer has a quick-dry nozzle and generates a strong airflow for easy drying.
Three speeds, four heat settings and three attachments are included; including a highly rated diffuser that works well to set even the tightest of curls. Panasonic's unique drying system keeps hair moisturised even as it dries, and the Cool Shot setting can be used afterwards to set a style in place.
SUMMARY: Another great Panasonic model, this was a favourite amongst the teams and came at a very reasonable price.
For more information or to buy this model click here.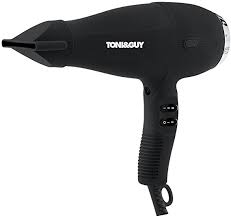 The Toni & Guy 5374 is a blow dry styler that dries and sets hair as it works. There are three heat settings and two speed settings for ease of use and to suit different hair types.
Styles can be created and sculpted easily and to a standard you'd expect after leaving a professional hairdressers'.
SUMMARY: Toni and Guy need no introduction and this hairdryer delivered time after time on various styles and lengths, if you are looking for daily use this could be the model for you.
For more information or to buy this model click here.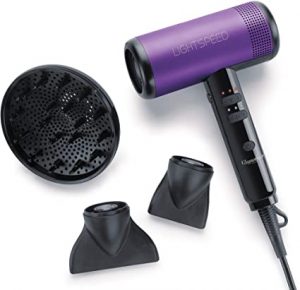 A lightweight model, the Glamoriser Lightspeed hair dryer is quiet and efficient for daily use.
Ionic conditioning within stops charged water drops from being absorbed into the user's hair and keeps hair looking smooth and shiny. Attachments are magnetic and a variety of drying nozzles and even a bowl diffuser are included in the box. A cold setting works well to help boost volume throughout the day. We often get asked what is the winner in the glamoriser lightspeed vs dyson models? And it is close to call!
SUMMARY: A stunning and stylish model, the lightspeed Glamoriser was amazing. A variety of settings to suit whatever you need. Highly  recommended.
For more information or to buy this model click here.
Popular Questions
What is the best hair dryer to buy?
We think the best dryer to buy are:
There are many different types of hair dryer available on the mainstream market that can be purchased on any high street or online store selling electrical goods.
The right hair dryer for you depends on your hair type, desired styles, requirements for use and frequency of use.
Those who dry their hair often should opt for something with protective technology to avoid over-drying and resulting hair damage.
Those with naturally curly hair should look to use a hair dryer with a diffuser, and those who wish to dry their hair to a salon blow dry standard may find a styler works better than a more traditional hair dryer.
What hair dryers do professionals use?
Professional hairdressers and stylists use a variety of different hair dryers dependent on their individual client's requirements these include Panasonic, Toni & Guy, Remington and Grundig.
Those working in chain hairdressers such as Toni & Guy are often contractually obliged to use their own brand's products but those working elsewhere may not have such a commitment.
In a high street salon you are most likely to find a hairdresser or stylist using a heavy-duty hair dryer from a well-known brand with a diffuser or wide-set nozzle for quick and easy drying that ensures their client doesn't have to sit in their chair for any longer than really required.
How much should I spend on a hair dryer?
How much you spend on a hair dryer depends on you but we normally suggest around £70.
While more expensive hair dryers do tend to have more features and settings included, exactly how much you should spend is dictated by your own budget and appetite for purchase as well as what you need.
For many of us, a thirty pound model will suffice – but if you dry often and want to ensure your hair doesn't get damaged as a result, something more expensive may offer the protection you need.
Frequently Asked Questions about The Best Hair Dryers 2022 UK
Is there a better hair dryer than Dyson?
While Dyson have certainly currently cornered the market for premium products in the hair dryer sector, they're not for everyone! Those who don't dry their hair often or regularly may simply not need such an expensive hair dryer and those with certain hair types may not find their dryers work best for them. The choice is entirely individual.
How powerful does a hair dryer need to be?
Hair dryers must balance between being powerful enough to dry hair quickly and efficiently, but not so powerful that it over-dries and therefore damages the hair. It is always recommended that you start on a low heat program and work your way up to find the right setting for you.
Do I need an ionic function?
If you need an ionic function depends on your needs.
Ionic technology is blossoming in the haircare industry. Ions are naturally present in human hair and when positively charged, cause volume – or frizz, if they're too charged. Hair dryers with ionic functions supply additional positively charged ions to improve volume alongside some negatively charged ones to balance them out and give a sleek and shiny finish to a style.
Which hair dryer is least damaging?
The least damaging hair dryers are generally the less powerful ones.
Generally speaking, the hotter and more powerful a hair dryer, the more damaging – but to some extent, user error is mainly responsible for such damage. When drying your hair you should keep the appliance moving and not focus the air flow in one place for more than a second or so, or you may over-dry or burn the hair and cause damage and split ends. Using lower heat settings can help avoid unnecessary damage.
What hair dryer do salons use?
Salons use a variety of hair dryers.
Hairdressers use different hair dryers and many own more than one to cater for their client's different hair types and styles. Generally speaking, however, you can expect hairdressers to use heavy duty type hair dryers to avoid them breaking – after all, they're going to be used a lot and often compared to home-use dryers.
Summary of the Best Hair Dryers in December 2023
In our guide, we have looked at different hair dryer models and price points so you can find something suitable. Before purchasing it's also best to think about the functions that you require and are going to use.
We hope you have found the guide useful and found the best hair dryer for you!