Welcome to our handy guide to help you find the best hair straighteners on the market today. 
Everyone with mid-length or long hair knows that hair straighteners are a must for a quick, sleek, effortless look. For many, GHDs have long been the 'go-to' brand of straighteners; heating fast and smoothing hair brilliantly. Yet now that the copper plate technology of GHDs is readily available, other companies too can offer competitive hair straighteners that are just as good, if not better. But what to go for? Let us guide you through your curls and waves and into silky straight goodness…
In our free and independent guide, we will look at a range of models to find something suitable for your needs. All of the hair straighteners we mention here have been favourably reviewed and comprehensively tested by consumer champions and industry publications; so you can be sure of the best possible quality and performance.
So sit back and find the most appropriate hair straightener for you, for healthy and stunning hair.
We hope you enjoy the guide and find the hair straightener you are looking for.
Best Straighteners in 2022
Check out the overall winners in our best straightener tests below and simply follow the links or read our thoughts further down the page.
Best Overall Hair Straightener
Revamp Progloss Steamcare Hair Straightener – £99.99
Dyson Corrale Hair Straightener – £399.99
Best Mid-price Hair Straightener
Toni & Guy XXL Wide Plate Hair Straightener – £49.99
Revlon 2155UK Hair Straightener – £49.99
Best Cheap Hair Straightener
Remington Ceramic Straight Hair Straightener – £29.99
Toni & Guy Style Fix Hair Straightener – £29.99
Most Stylish Hair Straightener
Glamoriser Bluetooth Smart Hair Straightener – £109.00
Toni & Guy XXL Wide Plate Hair Straightener – £49.99
At Best Companies we test and review products awarding and selecting the very best based on a number of factors. We are independently owned and the views expressed are our own. We may receive a small commission from the companies we review; this helps us keep our product review pages free of subscriptions for you. Prices of models are updated monthly but check with retailers websites.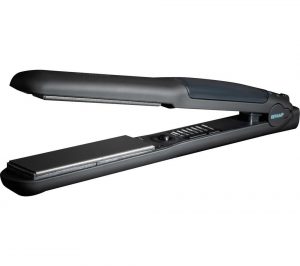 Styling your hair with the Revamp Progloss Steamcare hair straighteners is a must for anyone who straightens often – as it hydrates while it styles.
A built-in steam chamber creates a constant flow of steam and heat through the smooth ceramic plates. Adjustable temperatures can be changed to suit all hair types, and its ionic technology helps create fuzz and frizz-free finishes.
SUMMARY: A superb model which hydrated and styled, meaning that hair looked healthy and glossy after use. A great price and joint overall winner.
For more information or to buy this model click here.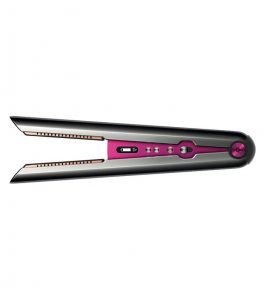 Probably the most premium hair straighteners on the market, the Dyson Corrale gives the perfect professional finish every time but with half the damage you could expect to experience from a traditional straightener.
The flexing plate technology shapes around the hair rather than forcing it to straighten, using less pressure and heat but still reducing frizz and flyaways.
Three temperatures can be switched between and the battery lasts for a full half an hour. What's more, the Dyson Corrale is completely cordless for ease of use wherever you are.
SUMMARY: Dyson are leading electrical suppliers and their hair straighteners may be expensive but they were amazing. It performed superby in all our tests. Highly recommended.
For more information or to buy this model click here.
A brilliant budget option, the Remington Ceramic Straight Hair Straightener takes just 15 seconds to heat up and has a whopping THIRTY different heat settings. It makes an ideal straightener for anyone with shorter or mid-length hair, or who hasn't owned a straightener before.
BEST STRAIGHTNERS SUMMARY: A brilliant model from household name Remington, it heated quickly and was great for use on all hair types. Top cheap buy.
For more information or to buy this model click here.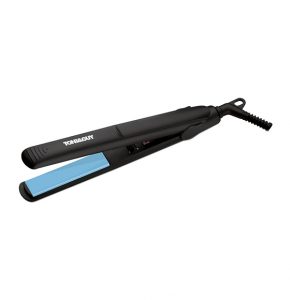 The Toni & Guy Style Fix straighteners have smooth ceramic plates and an automatic cut-off to avoid overheating.
What's more, it has Tourmaline Colour Lock technology built-in specifically to protect dyed hair and to nourish it. It makes for a competitive option given its low price tag and certainly packs a punch.
SUMMARY: This Toni Guy model packed a punch at a cheap price point. A solid performer and worth checking out.
For more information or to buy this model click here.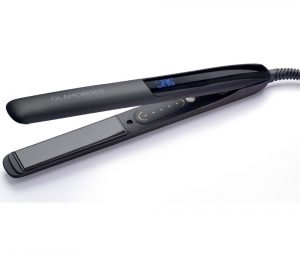 The Glamoriser Bluetooth Smart Hair Straightener links with an app on your phone to set personalised heat settings bespoke for your hair and its style.
The straightener can be set to turn off automatically (ideal if you're the kind of person likely to get distracted with the rest of your routine), and the 3m cable means you can always find your way to a mirror no matter how awkwardly placed your power plugs are!
BEST HAIR STRAIGTNER SUMMARY: Stylish looking and delivering great results this is a brilliant hair straightener. If can be synched with your phone to give you the styles and look you are after.
For more information or to buy this model click here.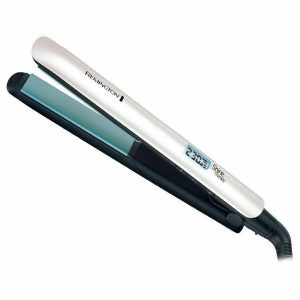 The extra wide plates on the Remington Shine Therapy straighteners work well for thick or particularly long hair and with ten different temperature settings, there's something to suit all hair types and styles too.
SUMMARY: Good on thick and at a cheap price, this model offers great value for money.
For more information or to buy this model click here.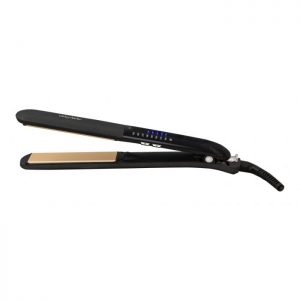 Nicky Clarke has cut the hair of some of the world's most famous people, so he knows a thing or two about haircare.
The plates are wide so work well for thick and long hair, and the ceramic technology ensures that hair doesn't overheat; preventing damage.
BEST RATED HAIR STRAIGHTENER SUMMARY: Another Nicky Clark model that made our top list. This was a solid hair straightener that delivered consistent results.
For more information or to buy this model click here.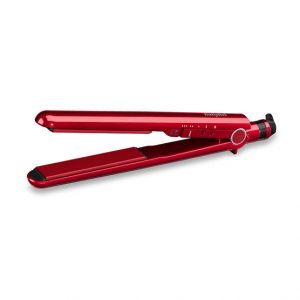 The curved design of the Babyliss Pro 235 reaches an impressive 235c temperature – which is what you'd expect from a salon's equipment. It heats in just 15 seconds and glides through hair easily without any friction.
SUMMARY: Striking in red the Babybliss model heats quickly and delivered great results. Achieving a salon standard finish – very much worth checking out in more detail.
For more information or to buy this model click here.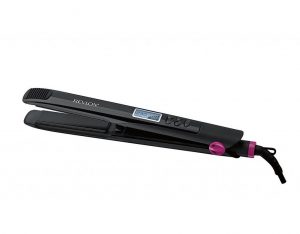 A solid choice with a very reasonable price tag, beauty experts Revlon offer up the 2155UK for less than fifty quid! The straighteners heat through within just 10 seconds and the copper ceramic plates transfer heat evenly and efficiently.
The precise temperature is shown on an LCD display and can be regulated at the touch of a button.
BEST SRAIGHTNER SUMMARY: A super mid-range option this Revlon performed well in all our tests. Quick heating and precise temperature was a great feature. Recommended.
For more information or to buy this model click here.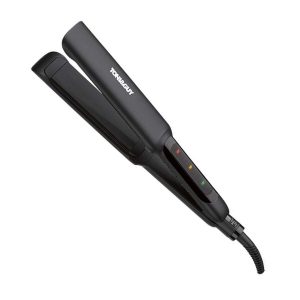 The XXL Wide Plate hair straightener is of a professional standard and is used worldwide in Toni & Guy salons.
Built-in tourmaline ionic technology prevents hair from overheating but keeps it smooth and shiny, with a maximum temperature of 235c and 10 different heat settings.
BEST STEAM HAIR STRAIGHTENER UK SUMMARY: Another super hair straightener from the brilliant Toni & Guy. It has an impressive range of settings and delivered great results time after time. Highly recommended.
For more information or to buy this best straighners model click here.
Popular Questions
What is the best hair straightener on the market
The best hair straightener on the market are:
However, there is no one model of perfect hair straightener that outsells all of the competition and works for everyone – because everyone's hair is different!
You should make a purchase decision based on your budget, hair type and desired style. Those straightening their hair often may prefer something more heavy-duty, whereas less frequent users can buy something a little cheaper.
Those with dyed hair should avoid high temperatures where possible or consider a steam straightener to help avoid unnecessary hair damage.
What hair straighteners do professionals use?
Hair straighteners that professionals use includes Toni & Guy, Revlon, Remington, Dyson and more.
Nowadays, the difference in quality between professional and personal use hair straighteners is negligible: so hairdressers and stylists don't only use certain brands.
Hairdressers who work in chains such as Toni & Guy will usually use their own branded straighteners but elsewhere, steam straighteners and more heavy-duty wide plate hair straighteners are common.
Which hair straighteners are better than GHD?
GHD were the top of the hair straightener market for many years but now many other brands have taken on similar – if not better – technology in their own models including:
Toni & Guy
Remington
Revlon
Babybliss
Dyson
Which brand of straightener works best for you depends on your hair type, condition and desired style and so one person's preference is likely to be different to another's. Although there are now a variety of straighteners spanning all different budgets, you will usually find that the more expensive models do offer additional features and variable tech.
Summary of the Best Hair Straighteners in June 2022
In our BEST RATED HAIR STRAIGHTENER UK guide, we have looked at different hair straighteners models and price points so you can find something suitable. Before purchasing it's also best to think about the functions that you require and are going to use.
We hope you have found the guide useful and found the best hair straightener for you!