ClickSlice is a London based SEO agency that prides itself on its unique method of ranking websites on the first page of Google.
ClickSlice reverse engineers the top 5 ranking websites on Google to identify impactful similararites between them all.
It then convert these into data points which the SEO campaign is based up, essentially allowing them to follow a proven blueprint to get your site on page 1 too.
In the words of Joshua George, the agency's owner: "If Google puts sites A-E in the top 5, all you need to do is emulate the profiles of those sites to follow suit".
ClickSlice offers SEO solutions to businesses based in the UK & USA. The main metric ClickSlice uses to determine a campaign's success is ROI – in fact they're so confident in their ability that they offer a guarantee to increase your online visibility within 90 days or have your money back.
ClickSlice Pricing
The following picture shows 3 different packages that Joshua George offers at Clickslice for any new clients he takes on: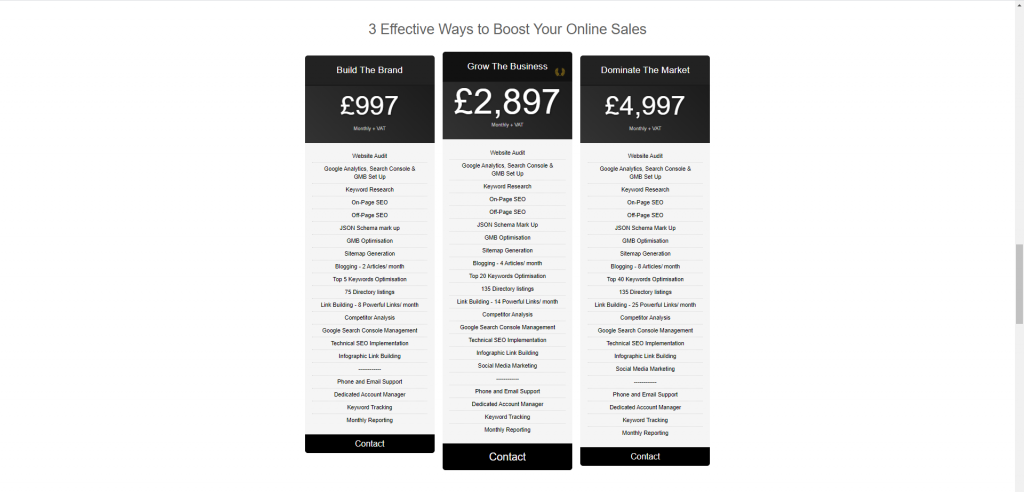 Joshua George regularly attends SEO conferences around the world to ensure the company stays up-to-date on all the latest trends in the SEO industry.
SEO
ClickSlice offers 3 core SEO packages designed to help improve the online visibility of your website.
Their campaigns typically start with competitor analysis, to see what your main competitors are up to – this paves the way for a clear action plan regarding what needs to be done on your site to achieve similar results. Once the competition is analysed, they then move on to keyword research in order to understand the search phrases that your potential customers are using, and when campaign keywords are finalised, they optimise relevant landing pages on your site to target these keywords, building new pages if needs be. When you have a foundation of optimised content on your site, the link-building process begins.
Link Building
Sometimes a website will already have a solid SEO foundation with all the on-page SEO elements in place.
If this is the case for you, then there will be no need to invest in re-doing it.
Did ClickSlice Make The Top 10 Best Link Builders?
ClickSlice will simply recommend their standalone link-building service, to focus on acquiring a high quality of inbound links in order to make sure you're well known to search engines and other sites around the web, to enhance your reputation and improve your rankings efficiently.
ClickSlice Contact Details
Right now, the best way to get in touch with the ltd company is through their 'contact us' form, which you can fill out for a free quote whenever you are ready.
However, you can also get in touch with the team through social media, with details as follows:
ClickSlice Testimonials
All SEO Companies
Here is the full list of the best SEO marketing companies we have reviewed:
The top-rated SEO company reviews were updated in October 2021.