Get Me Links allows you to get access to the best links at the best prices online.
Looking to get access to the best link building service on the planet?
GetMeLinks recently bought out DFY Links in a huge investment by the online entrepreneur Gary Wilson.
Did Get Me Links Make The Top 10 Best Link Builders?
It's time to start getting your business seen online and to start driving some serious traffic. But how easy is that to manage?
In this Get Me Links review, we will be looking at what you can expect from buying and building links to help drive your authority into the stratosphere.
Many business owners and entrepreneurs turn to expert agencies such as Get Me Links to help propel their Google rankings and to ensure that the traffic they receive is of high quality.
Otherwise, you could end up with the same old bots and unengaged traffic. Let's tap into what get Me Links has to offer.
Who is Get Me Links?
Get Me Links is an experienced team of SEO and SERP professionals who feature in publications such as Search Engine watch and Business Insider.
The team's primary focus is on creating unique strategies for building links and driving genuine, organic traffic to their clients.
Get Me Links comprises of a tight-knit group of experts with years of experience in various SEO niches. This means even if you are new to link building, they will help you find strategies and channels which drive fantastic results.
They offer a stringent process which has been born out of at least four years of SEO testing, meaning that the team has thrown itself deep into trial and error research.
What's more, Get Me Links also advises that it has room to learn and grow, meaning they are not finished with their scope of expertise.
Gary Wilson runs the company, and they have been a formal organisation since 2019. However, the team pools together years of expertise to build a formula that works for their clients.
What Does get Me Links Offer?
Get Me Links offers a range of services which revolve around building organic, reputable and worthwhile links for businesses and websites in all niches and industries. These include:
Link packs, where you can purchase links outright to build one or more packages. These are great if you want to make sure your link building is a slow and steady process, or if you are unsure how to approach your niche right away. Rest assured, Gary and the team are always on hand to help. Save yourself some time!

Get Me Links offer guest post services as standard. Offering guest posts via influencers and bloggers with firm reputations and regular, organic readership, this side of the company's services will ensure you benefit from regular visitation which is both relevant and fantastic for long term growth.
You can also take advantage of tiered links with Get Me Links, where you can boost your authority and backlinking strategies with one or more juice-squeezing opportunities.

Get Me Links also provides niche edits, which means they focus on editing older articles on the web by carefully inserting relevant links to your services. If you're struggling to break out into a niche or two, this is one of the best tried and tested avenues you can take.
Essentially, Get Me Links offers a variety of opportunities for you to build on links and opportunities to drive organic traffic.
You can approach the team for a free consultation, and they will help you to find an option which not only suits your long term plan but which also fits your budget.
Pricing
A free consultation is offered as standard no matter which service you'd like to set up with Get Me Links. However, as you may imagine, pricing will differ across the board when it comes to the type of service or packages you arrange.
Let's, for example, take a look at some of the popular and simplified link packages that Get Me Links offers right now. Their Slow Burner package is one of the most popular, offering two DR 30+ guest posts and niche edits, as well as a DR 45+ niche edit for just $600.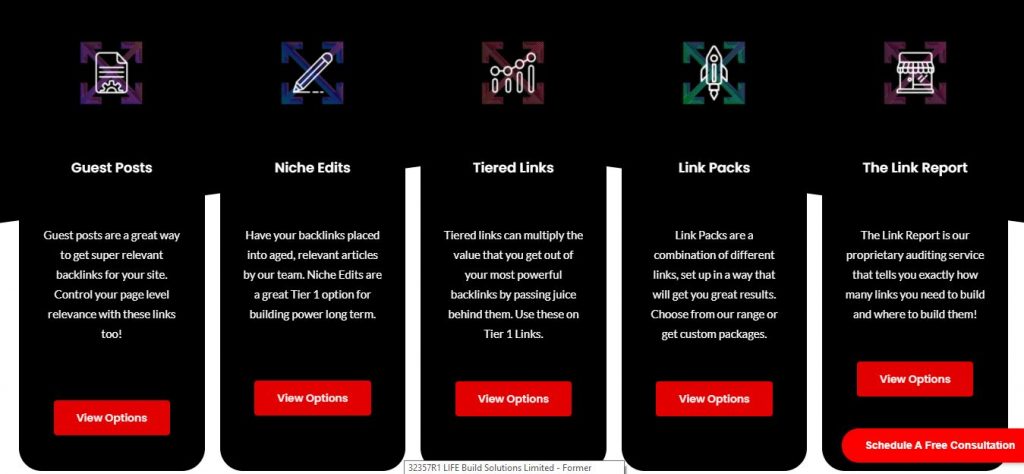 Their premium link package is the King's Empire deal, which gives you ten DR 60+ posts and edits, as well as ten URLs with tier 2 links stacked with tier 3s. All of this is available for $8,000 at a saving of 25%, and it's one of the most potent and comprehensive packages on the web bar none.
As you can see, Get Me Links focuses on setting up powerful, extensive links packages which can make a real difference to your SEO and building campaigns. Do make a point of taking a closer look at their other local SEO packages and expertise, too, to see how much money you could save on genuine link juice.
Get Me Links Overview
Get Me Links is a relatively young SEO agency run by Gary Wilson, having set up in 2019.
However, in that time, the company has built up an impressive portfolio and array of packages and has been featured in Fat Rank, iQSEO and SEO Tribunal.
While the company may be relatively new, the team itself has years of extensive experience in trialling and researching link building and on-page / off-page SEO strategies. This has led Get Me Links to establish itself as one of the most insightful agencies of its kind.
Don't just take our word for it. Keep reading, as we've lined up some great testimonials.
Get Me Links Contact Details
Get in touch with Get Me Links now by contacting the following:
What Others Are Saying
"Gary's insight into SEO and link building is second to none. This company is going places."

"I'm amazed by how insightful the packages are at Get Me Links – there are lots to get into, and I can personally guarantee you'll get solid traffic from people who are relevant to your cause."

"I was having real difficulty getting any links back to my site – Gary's team helped me out with some brilliant insight and regular help I can always count on."
Final Thoughts About Get Me Links
Get Me Links may be a new company in and of itself, but it is wise beyond its years – meaning that if you are looking for solid link building that genuinely drives active interest into your business, this is a top company you're going to want to try.
All Link Building Companies
Here is the full list of the link building companies we have reviewed:
The top-rated backlink building company reviews were updated in December 2021.