Are you in the process of pushing your business to the masses online? Struggling to make a real impact?
Outreachmama is a modern link building firm offering guest posting services and more to help get your brand up and running.
In this Outreachmama review, we will look at their affinity for building quality links, as well as how effective their content marketing strategies may be for you in the long run.
Did Outreachmama Make The Top 10 Best Link Builders?
When it comes to building a firm SEO strategy and getting organic traffic flowing into your business, you're going to need a team with plenty of experience to build the best links through the most niche and interesting of sites.
Let's take a look at why Outreachmama and their link building services may be just what you're looking for.
Who is Outreachmama?
Outreachmama is a guest posting service and link building company with a difference. They strive to build relationships between companies, and through their experience, collectively, as a link building firm, they have worked with a wide array of different publishers and sources.
They are a relatively small team of at least 23 specialists at the time of writing. However, they have been operating outreach services for many years.
They have also been enhancing the quality of their links along the way. They have helped get great content and links back to their clients across 10,000 websites and more. They're also responsible for having built 3,000 links and counting.
Outreachmama offers an SEO and link building concierge service, with a clean and appealing website design that aims to break down as much of the jargon as possible.
Ultimately, if you are looking for great guest posts, high-quality links and reliable content through niche industries, the last thing you're going to need is tons of jargon and confusing language.
This is partly why Outreachmama has continued to grow in popularity over the years. They offer a people-first approach, which may well appeal to businesses everywhere looking for guest blogging with clout.
What Does Outreachmama Offer?
Outreachmama revolves around white hat SEO through link building.
Their central link building services source out genuine, traffic-friendly niches. Here you can claim real visitors from well placed and researched links. They also analyse existing backlinks and anchor texts you may have in place and work closely with you to develop strategies to better appeal to people.
Outreachmama, as their name suggests, also runs a celebrated blogger outreach program. This means that they have a strong blogging outreach network which they can rely on for guest blogging and high-quality links for all their clients. While they may already have a firm database of niche bloggers and sites to work with, they are always striving to get their network to the next level.
Guest post services through Outreachmama will also ensure that your links are within content which is not only fresh and new but which genuinely appeals to the real people you want to drive into your site and business. Rather than relying on spam and black hat SEO techniques, Outreachmama's team takes a personalised approach to guest posting, making sure that all parties involved are happy at all times.
The team works hard to look for DR ranges and build citation flow ratios which genuinely work for you. Rather than run an automated process, the team applies themselves on a manual level at each stage of link building.
Pricing
Outreachmama offers a competitive tariff for buying links through their website. It is as simple as clicking the 'buy links' section before filling out a few details.
Before the team gets started on any links or blog posts for you, you will know precisely what you have to pay, and what you are getting for your money, too.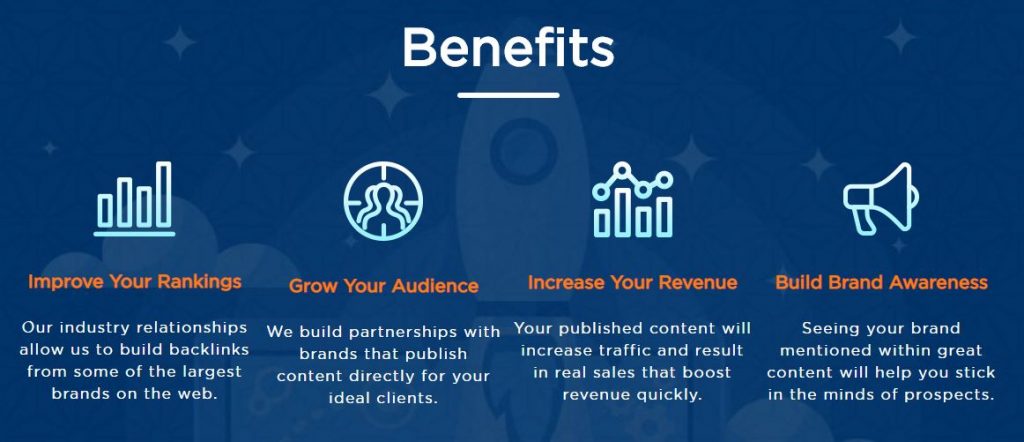 It is worth taking a closer look at the prices for link building and guest posting with Outreachmama's leading team. It is simple enough for you to reach out and set up a friendly consultation.
They will then work with you to set up a blogger outreach or link building package which fits not only your long term goals but also your short term budget.
Outreachmama Overview
Outreachmama runs a small team of 23 people who are invested in the 'personal' side of guest post services and link building.
The company's main USP is the fact that they are hands-on. Rather than diverting their link building to automated tools and services, they genuinely take the time to discuss projects in close detail with their clients.
This, reviewers say, really helps to make sure that their guest posts and organic links drive for solid results.
The US-based firm is, at the time of writing, a small company, but have been referenced by multiple leading SEOs and industry sources. Therefore, this is a company that is likely going places.
Why not get in touch to find out more about the rates for guest posts, high-quality links and turnaround times?
Outreachmama Contact Details
Get in touch with Outreachmama today through the following channels:
What Others Are Saying
"Outreachmama is a breath of fresh air. Honestly – link building and SEO doesn't have to be awkward and stuffy, and this team proves that."
"The Mamas are working wonders for my organic traffic. I don't know what I could have done without them. I'm a complete novice when it comes to white hat techniques!"
"Outreachmama is personal, friendly, and offers blogger outreach that probes deeper than any other SEO we've worked with. Highly recommended."
Final Thoughts About Outreachmama
Outreachmama is looking to change the game as far as guest posting services and blogger outreach is concerned. That is, they aim to make the way you build links simpler, friendlier, and easier to manage.
Please make a point of contacting the team for a quote, or getting in touch through their social media to learn more.
All Link Building Agencies
Here is the full list of the link building companies we have reviewed:
The top-rated link building company reviews were updated in April 2021.