Are you keen to push your online brand to the next level? Are you struggling to get organic traffic flowing into your website? Page One Power may be able to help.
In this Page One Power review, we will take a look at the company's main specialities, as well as why you might consider them over other link building companies and experts available to hire right now.
Did Page One Power Make The Top 10 Best Link Builders?
Link building is something which can take a lot of time and effort to arrange! Therefore, do always reach out to experts who can help you connect with a variety of niche sources and audiences.
Does Page One Power have what you need to become a genuine authority in your field online?
Who is Page One Power?
Page One Power is a leading agency that's steeped deep in SEO. They are a modern company that bases their optimisation standards and packages around link building, which is one of the most effective ways to encourage organic traffic to visit your site or blog.
Page One Power has more than a decade of experience in helping a variety of business owners and entrepreneurs break through Google's algorithms to earn pride of place in search rankings, as well as in the brand awareness of thousands of people with niche interests and needs.
Based in Boise, ID, the search engine gurus at Page One Power also publish guides and regular advice on how you can make the most of your links, and how you can harness organic SEO for the better.
They offer auditing for content and more besides, meaning that there are plenty of opportunities here for you to fine-tune your online presence.
What Does Page One Power Offer?
Page One Power positions itself as a leader in SEO.
This means that they don't just offer their clients top-quality links, but can also take a close look at the existing content and analyse what you need to do to get your SEO moving in the right direction.
Page One Power offers what they refer to as sustainable link building. This is where they take the time to scrutinise niche opportunities to build backlinks into your website, blog and more. The firm will look for sites and blogs elsewhere which could help to boost your profile in the niches and spheres you want to grow in.
Page One revolves around custom campaigns, which means there is never any need for you to worry about fitting into any template.
They also focus on content strategies, not only with simple keywords in mind but also with genuinely engaging, actionable words. They understand that Google's search engine algorithms now revolve heavily around genuinely appealing and useful content. Therefore, you can reach out to Page One Power to work on a strategy to help make your content more appealing and grounded.
Page One also provides a full project management service. This means that whether you are looking for social media insight, high-quality backlinks or a simple SEO audit, you will always have a dedicated member of their team standing by to support you.
Page One Power deals in white hat SEO techniques, as well as through its link building strategies. This means that they actively help site owners to start working towards building content that appeals to people, and which isn't pure spam.
Page One's link researching and building services are extremely popular as they can help to drive genuinely interested and engaged visitors time and again to visit your brand and site.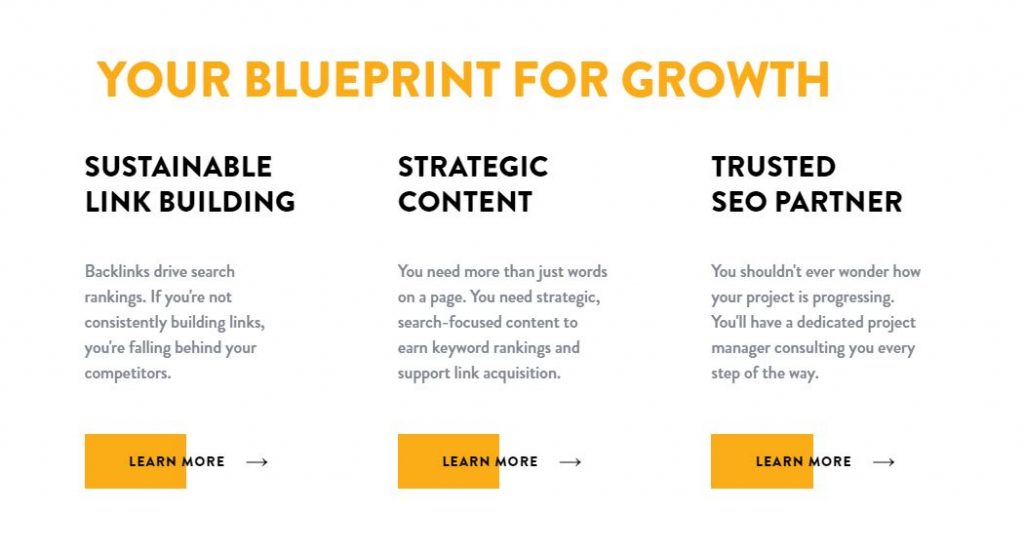 Pricing
Pricing for high-quality links at Page One Power can vary depending on what you need, the niche you operate in, and how long you need their support for.
Their main website suggests that you may expect to pay a retainer of around $5,000 for regular, top quality linking services.
However, they also advise that project and business needs will differ. Therefore, it is usually a good idea to reach out to the team to learn more about setting up a bespoke package.
Page One Power offers genuinely top quality work at pricing and rates which compete with the best link builders in the business. Want to learn more? It's time to reach out for a quote.
Page One Power Overview
Page One Power has more than a decade of dedicated SEO experience in its team of experts, and they are still growing with a tight-knit base of clients and businesses.
Their primary focus is on link building across the board, though they are also well-known and supported for their thorough SEO auditing services.
Page One has several strong partnerships at its Idaho, US base, reaching out to bloggers and niche sites and sources for the best links possible.
They also reach out regularly to help grow their team, meaning they are always keen to get the best SEO specialists and link building experts on side.
Page One's strapline is that they offer 'links built for results', and 'content built for search'. It is this organic approach which may help them stand apart from the pack as far as modern SEO is concerned.
Page One Power Contact Details
Get in touch with Page One Power today:
What Others Are Saying
"Page One's SEO insight is incredible – and worth every penny."
"We're seeing more organic visitors than ever before, and that's all thanks to the top quality links the Page One guys are creating for us."
"I had no clue about SEO until I got in touch with Page One. The turnaround has been amazing in a really short space of time. I highly recommend them."
Final Thoughts
We have read many Page One Power reviews and even tried the company out themselves. Page One Power is a leading name in modern, organic SEO.
Offering link building and auditing, they may be one of your best ports of call when it comes to getting your web content out to a whole new audience.
All Link Building Agencies
Here is the full list of the link building companies we have reviewed:
The top-rated link building company reviews were updated in April 2021.