Are you looking to enhance your links and build on your website's ranking?
In this Rank Supremacy review, we are going to look at everything you need to know about the SEO services offered by the firm to help get you the client and revenue growth you demand.
Did Rank Supremacy Make The Top 10 Best Link Builders?
Rank Supremacy handles a wide variety of SEO services and specialisms, in particular link building through guests posts.
Their website is clean, clear and professional – but what lies beneath the surface? Let's take a closer look.
Who is Rank Supremacy?
As their name suggests, Rank Supremacy is a company that deals in links and online authority building.
They offer link purchasing to customers who are keen to drive more custom and interest in their websites, blogs and online stores.
Their main USP lies in the fact that you will always be able to buy links and connections through reputable, verified services. This isn't always so easy to come by!
If you are new to SEO or want to get access to professional help in building the best links for your business, it is well worth reaching out to Rank Supremacy.
They are one of the newer search experts available online, but they boast a wealth of expertise and packages which are easy to understand and review at your leisure.
Why should promoting your business and building your online presence be difficult? Take a look at the site's fantastic Google boosting services and rates to learn more. Or, keep reading and we will break things down even further for you.
What Does Rank Supremacy Offer?
Right now, Rank Supremacy offers a fantastic guest post service, where you can buy genuine links in engaging content to reach out to a wider client base.
All SEO experts will recommend that you have a strong link building strategy in place to really drive engaged visitors to reach out to you regularly.
Here is a little more detail on how the process works through Rank Supremacy:
When you contact the team, they will work with you to set up a bespoke or custom plan of action.
You will then be able to tweak your metrics and set parameters with SEO experts. This means that time and time again, you'll push for fantastic results in your content and online marketing strategies.
The Rank Supremacy team then writes and produces fantastic, engaging content which will include the links you need. There's no fear of you falling down a hole of black hat SEO, or finding the content you pay for to be inferior to what your competition is producing.
The team will then produce a white label analytics service. This means that you will have plenty of data to pore through and use to your advantage. What more could you need when it comes to reaching out to the right people?
SEO can be complex, but it doesn't need to be. Rank Supremacy offers a 24/7 service and metrics they have honed to stand head and shoulders above the competition.
Therefore, make a point of getting in touch with them if you have a plan of action in mind.
Pricing
Rank Supremacy offers a flexible pricing system based on how powerful you need your links to be, and how many words you require for your web content.
For example, for the lowest 'power' in links, and a word count of 500, you can expect to pay around $90.
Handily, there is a sliding scale system available on their website which will help you to work out how much you need to pay for the links you want to build. This helps to keep things super flexible!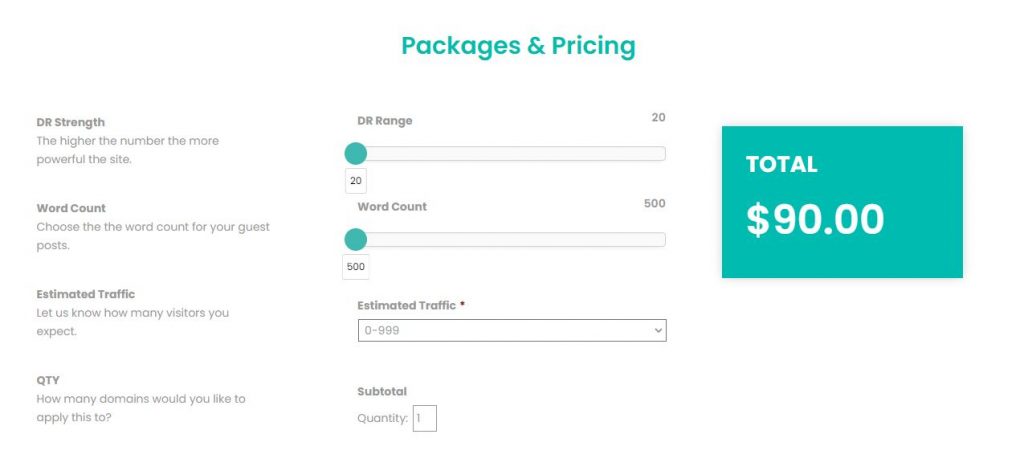 You'll also be able to set your expected traffic, too. It's a fantastic little tool that will help you analyse how much you need to clear to get the results you really want. We highly recommend it!
Rank Supremacy Overview
Rank Supremacy is a relatively young company but with a fantastic ethos and plenty of great customer reviews.
The team at Rank Supremacy makes sure to work with the latest in SEO tools and link building services to make sure that they provide the most relevant and engaged clicks to their clients.
Their approach to building links and setting up digital marketing is very refreshing. After all, SEO has seriously grown beyond the age of just throwing the occasional keywords out there!
Therefore, it is well worth taking a closer look at what the company has to offer and to see if they can support your business marketing for the months and years to come.
Rank Supremacy Contact Details
Contact Rank Supremacy through the following details:
You can also contact the team through their website, by filling out their web form. This is likely to be the quickest and easiest way for you to set up an SEO plan.
What Others Are Saying
"SEO and link building through Rank Supremacy is really easy. Their website is so simple to use! It really makes a change to find a service that's not confusing or which doesn't go over the top on the jargon."
"I don't trust anyone else for links or SEO strategies. RS are a fresh face in a very competitive industry. I highly recommend any business struggling to build authority to consult with their staff."
"I didn't realise links could be so easy to build – search optimisation has always baffled me, and I'm pleased to say that rank Supremacy has really helped to change things around for the better."
"I thought all there was to SEO was keywords and a few well-placed images! It turns out Rank Supremacy know how to really push the boat out when it comes to great links and SEO perfection. I can't thank them enough."
Final Thoughts About Rank Supremacy
Rank Supremacy offers a bright, friendly face for newbies to SEO and link building to approach with ease. Their website is really easy to handle, and you can build a quote while you wait.
Why not take a chance on great links with Rank Supremacy? It's time to show Google who's boss, and you won't need keywords alone to do that.
All Link Building Agencies
Here is the full list of the link building companies we have reviewed:
The top-rated link building company reviews were updated in April 2021.