SEO isn't always easy, and neither is establishing yourself as a genuine authority in your field online!
That's why many established businesses and firms reach out to link building companies for the answers.
In this Searcharoo review, we will be taking a look at how this particular company can help you drive frequent, organic traffic to your site without any tricks or traps.
Searcharoo SEO is an online digital agency based in the UK.
Did Searcharoo SEO Make The Top 10 Best Link Builders?
Getting your business out, there is a bit of a minefield if you work in a particular niche. That's why it's worth reaching out to a service such as Searcharoo, which can help to craft content and build strong links to get your name in the heady heights of Google's page one listings.
Who is Searcharoo?
Searcharoo is a link building specialist who has helped to provide more than 10,000 links to customers over the years.
The two managers of Searcharoo have years of link building and outreach experience and have been working together under the Searcharoo company label since 2018.
The founder of searcheroo is Tom Phillips.
Scalable, reseller-friendly SEO services at competitive prices.
Your personal pre-built SEO team, at your service.
Specialising in custom outreach link building, guest posts, content writing and SurferSEO optimised content.
While the company itself may be relatively young, the firm's expertise has helped to ensure many businesses and growing brands find their feet in increasingly difficult niches to break into. This, of course, is the aim of top quality link building.
The Searcharoo service targets website owners, but they tailor packages and services towards SEO agencies, too. Therefore, if you are an SEO and need support in sourcing out top links for your clients, Searcharoo is always happy to help bridge the gap as a middleman.
Searcharoo positions itself as a qualified team that works hard to offer genuine value through all the content creation and link building it provides.
The team has nearly 30 years in total experience in SEO, meaning that there are likely few other companies and firms out there who can offer the same amount of insight.
Crucially, Searcharoo also works to offer fair services and packages which are easy to understand and budget for.
You could be an SEO agency rep or an entrepreneur setting up your first website, and the team at Searcharoo will always be happy to help you reach out to the right people through niches and interesting links alike.
What Does Searcharoo Offer?
Searcharoo mainly offers link building services and metrics. Here is a quick breakdown of what you can expect from their search results services:
A simple outreach service, whereby the team will look carefully for leading niches and names online who are likely to carry your links. Specifically, they will match your desired URLs and keywords with sites and blogs which pull in genuine, organic traffic.

This means that said traffic can therefore transfer into your analytics – meaning that instead of pumping your site full of black hat keywords, you are reaching out to the right people, and driving organic connections. Searcharoo reviews clearly show that using this method does pay off!

Searcharoo doesn't go ahead with their links and snippets until you are completely happy. Once you feel the team has a great set of links and outreach opportunities for you, you can then go right ahead with a campaign – and wait for the new, organic traffic to start flowing in. Simple!

Searcharoo also offers content which they describe to be 'newspaper quality'. This means that the guest posts and blog edits your links will be placed in will be of fantastic quality, easy to read, and will be genuinely appealing to a wide variety of relevant, engaged readers.
Crucially, Searcharoo makes a point to use a database of fantastic niche sites and blogs to push for the best organic traffic returns.
Even better is the fact that they will always keep you in the loop at each step of the way, meaning you never have to worry about what's going on with your campaign, nor how well things are performing.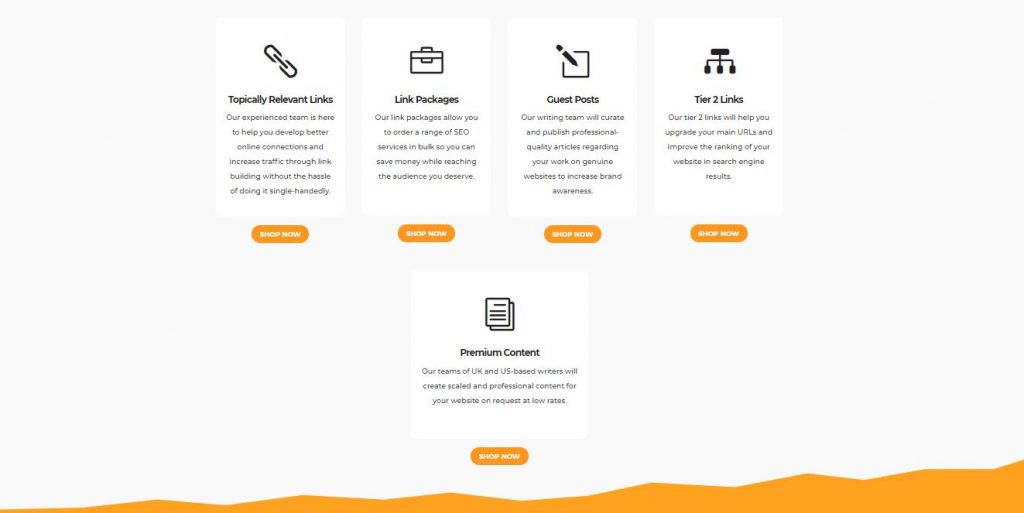 Pricing
Searcharoo is refreshingly upfront on link building prices. From as little as $1000, Searcharoo offers five DR30+ links and three DR45+ links.
This is an excellent package to help you get started, and in layman's terms, this tends to be an ideal platform if you're unsure how link building will work for you in the long run.
Searcharoo runs its services through various other tiers, with similar sets and labels applying to guest posts. Their premium service, at present, is a package worth $4,500, which offers you 15 DR30+ links, ten DR45+ links and five DR60+ links.
This is a big package crammed full of linking opportunities.
These rates compete well with the industry average. What's more, it's great that you can see all of this pricing as clear from the company's front page.
While there will be bespoke ways for you to tailor your link building, there's no need to start a conversation to find out how much everything is going to cost.
Searcharoo Overview
Searcharoo is a small yet dedicated team of SEO professionals. They collectively have almost three decades of experience in white hat link building and SEO agency support between them.
Their main USP lies in the fact that they are hands-on. Searcharoo is upfront with its pricing and its linking packages, and what's more, many people recommend their friendliness as much as they recommend their expertise.
Searcharoo is fast building a firm reputation with SEOs, not just for knowledge, but for approach. It is well worth taking a close look at what they do if you are hungry for organic results.
Searcharoo Contact Details
Contact Searcharoo via the following:
What Others Are Saying
"Searcharoo is the only team you're ever going to need to rely on for top links and organic traffic."

"I'm impressed by the way the Searcharoo guys manage my link building – it's a much better alternative to having to spam my pages full of the same old keywords!"

"Searcharoo is a name to watch – they have tons of expertise and a fantastic attitude. Their links are niche and always drive me the best results."
Final Thoughts About Searcharoo
Searcharoo is a UK based SEO expert with plenty of link building experience. Their fresh approach to fair packages and rates will likely appeal to many.
Whether you are an SEO or are running your site, why not reach out for a chat?
All Link Building Agencies
Here is the full list of the link building companies we have reviewed:
The top-rated link building company reviews were updated in December 2021.