Does your business work in a niche that's hard to build authority in? Are you using all kinds of SEO tools, but are struggling to break through with the best keyword research and services?
Serp Ninja offers a variety of SEO tools and search engines expertise, and more than that, they claim to have a fantastic approach to editing in various niches.
Did Serp Ninja Make The Top 10 Best Link Builders?
In this Serp Ninja review, we'll take a look at everything you need to know about the company so that you can prepare yourself for search engines and increasing client interest in the months and years to come.
Want to make a real difference to Google search results? It's time you got Serp Ninja on side to help out.
Who is Serp Ninja?
Serp Ninja is an experienced SEO management and link building company which offers a wide variety of specialisms in-house. They work with their own experts and have grown their brand exponentially over the years.
SERP stands for search engine results page, so you can see where their name comes from.
Their main expertise lies in backlink building and on-page SEO, though you can always rely on them for the best SEO strategies to help build your authority in niches across the board.
In fact, this is what Serp Ninja demonstrates to be their main selling point. They focus on tapping into wide niches so that your brand isn't left stranded in a sea of better-positioned alternatives.
Serp Ninja provides bespoke keyword research projects, personal project management support and more besides.
They work to offer expertise for search engines and project tracking on a real-time basis, meaning that anyone using their tools can be sure they are always in touch with their links and outreach.
Serp Ninja offers much in the way of freedom that other SEO experts and links teams might not. Therefore, whether you are looking for help with local SEO, on-page or off page conversions, it's likely you will find plenty of guidance with this leading team.
What Does Serp Ninja Offer?
Serp Ninja offers the following SEO tools and searching services to help build your authority online:
Niche Edits. This is Serp Ninja's main focus, and it's here where they use their best SEO tools to really tap into the most difficult markets. This is where you will be able to buy links on a white hat basis, creating genuinely engaging authority. The links you buy from Serp Ninja are always going to be the real deal!
Social Signals. As well as offering niche links for verifiable sources and sites, you can also set up a plan of action with Serp Ninja to attack the major social networks. The company will set you up with links into social posts and shared media which will do more for you than any simple SEO strategy ever could.
Citations. Serp Ninja's team also understands that citations are an incredibly powerful SEO tool when used together in the right way. You'll have access to the team's years of expertise with fantastic local citations in a variety of niches and industries.
Specialised Services. Serp Ninja also offers specialist vertical services for the casino industry, as well as for those companies and blogs looking to break through in CBD. These are two niche areas, but which have healthy interest online.
Of course, no two link build services are ever quite the same. Time after time, however, Serp Ninja will work with you to create a plan of action that makes use of more tools and more expertise than many other competing agencies.
Pricing
Pricing for Serp Ninja's links and services will vary depending on which SEO tools you are looking to hire and what you are willing to spend per month or as a one off payment.
As a representative example, you're able to buy a pack of five links from the company's niche edits service for as little as $199. This is highly competitive, meaning that you may well find that you pay less for a level of expertise that's hard to access anywhere else.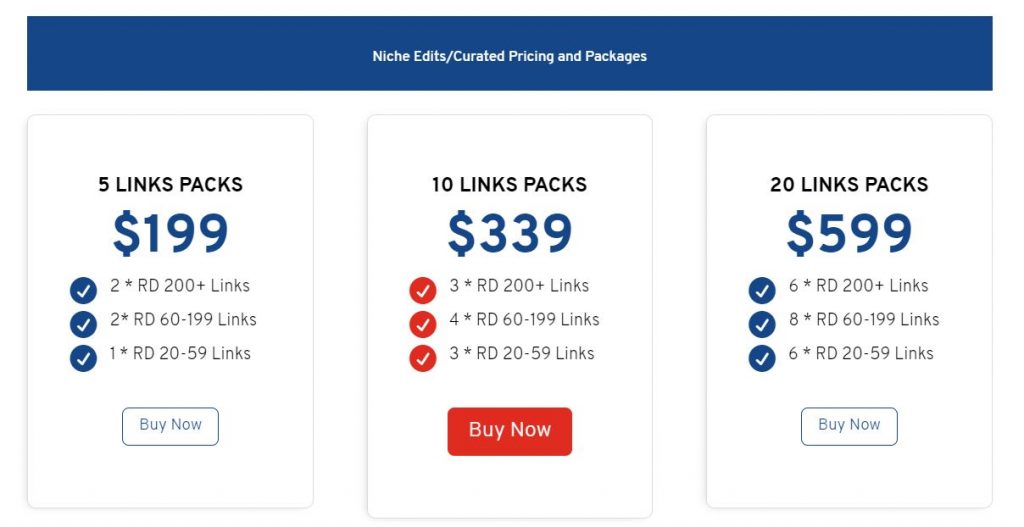 Of course, there are additional packages and services available, too. However, one of the best SEO assets available at Serp Ninja right now is the niche edit and curated links package at the base level.
Try it for yourself and see how much of a difference it makes to your Google Analytics.
Serp Ninja Overview
Serp Ninja is different from many other agencies offering SEO tools for the simple fact that they run everything in-house. Instead of outsourcing most of their expertise, much of their work emanates from their 30-strong team.
The company asserts that this model works not only to your productive and efficient advantage but also on a cost-effective level, too. This also means that Ninja offers a scalable service, which you can customise to your own needs and demands as you wish.
Ninja has grown into a friendly, approachable SEO service with dedicated project managers available to support you around the clock.
They offer a unique platform and service which, they maintain, is human to the core. They are more than just a simple SEO tool provider!
Serp Ninja Contact Details
Be sure to contact Serp Ninja through the following contact information:
What Others Are Saying
"Serp Ninja's links are absolutely unbeatable – I'd never expect to go from irrelevant pages all the way to pages one and two so quickly."
"Is it really possible to break through in niches like mine? Absolutely, and the Ninjas make real light work of it. It certainly saves me from having to do everything myself."
"It's so hard to keep links and guest posts on the topic these days, and I have to say, Serp Ninja knows how to work this to my advantage."
"The links packages with Ninja are some of the best value you'll find anywhere online, and I'm willing to stake my reputation on it."
Final Thoughts About Serp Ninja
Serp Ninja's talented team are masters of the niche, not just local SEO and the finer points of off-page SEO.
Providing some of the most in-depth analysis and support for the money they expect, you're looking at a fantastic value package or two from a team that genuinely cares.
All LinkBuilding Agencies
Here is the full list of the linkbuilding companies we have reviewed:
The top-rated linkbuilding company reviews were updated in April 2021.