Are you struggling to build any proper authority for your business online? You may be operating in a niche which is hard to break into.
Therefore, in this Sirlinksalot review, we will take a look at the Sirlinksalot services to see whether or not their approach to boosting your brand online is right for you and your business.
Did Sirlinksalot Make The Top 10 Best Link Builders?
Building backlinks is important in SEO. To be able to get Google's attention, you're going to need reputable websites and blogs to talk about what you do, or at the very least, set up a few links back to you!
Here's our complete lowdown on Sirlinksalot and what you can expect from their services in the long run.
Who is Sirlinksalot?
Sir Links Alot is an agency that primarily focuses on building links.
They offer a variety of SEO products and services on the whole, such as citations and other resources; however, their main focus centres around sourcing excellent links for all their clients.
Sir Links A Lot is also well known for its educational approach. The firm has a strong social media presence, where they share ideas freely with anyone who may be interested in improving their SEO skills or firming up their optimisation strategies for the better.
Sir Links A Lot also has an online video channel through YouTube, where you can watch content and how-tos on fine-tuning your SEO through white-hat, organic strategies. The best part is, this side of the business and the company's expertise is free!
This is a humble, tight-knit company that genuinely cares about sharing top tips and ideas on how to make links and SEO strategies work well for all comers.
They are a Texas-based firm with a refreshing approach to SEO and links, in the sense that they never use any confusing jargon or push you on the hard sell. What you see is what you get.
What Does Sir Links A Lot Offer?
Sir Links A Lot mainly offers backlinking and link building services, though they also extend their expertise to guest post creation, citations, niche edits, social signals and even PBN setups.
They run a broad gamut of SEO services which even some bigger firms might not be able to support you with. It's well worth taking a good look through.
However, let's take a quick look at how Sir Links A Lot's guest posting and link building services work.
Sir Links A Lot allows you to buy guest post slots on websites and blogs which are within your industry niche.
The team manually hunts down useful and relevant blogs and websites where you can create links and start to build a web of authority.
The service offers manual, high-quality service without any risk of Google, assuming that your links are paid or resourced through less legitimate means. They contextualise your links, too, which means that they are not only more relevant, you have more chance of getting through to the people you want to reach, also.
Sir Links a Lot's website has a fantastic breakdown of what you can expect from their link building services. One of the most appealing factors to their service is that they are so friendly, approachable, and laid back.
They break down everything you need to know into small, manageable chunks, without any risk of you getting overwhelmed.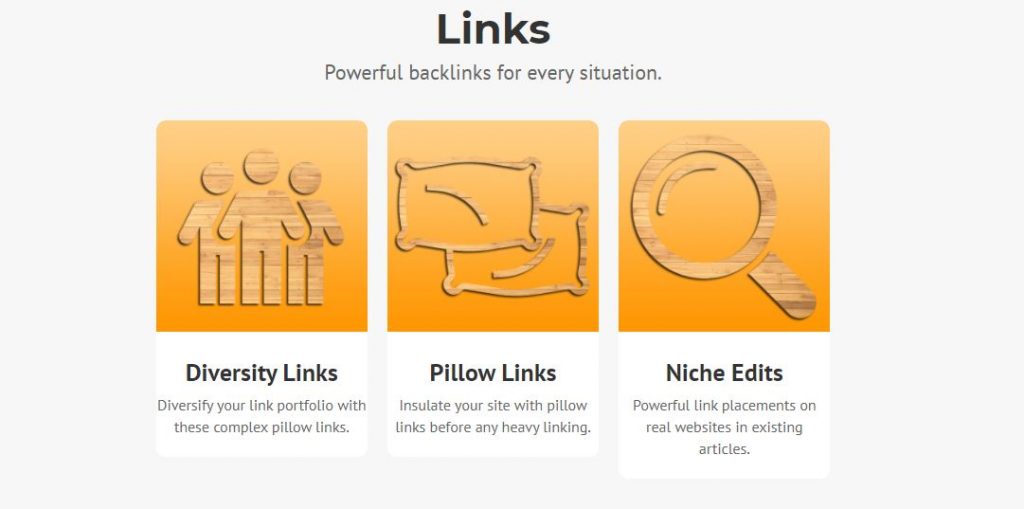 Pricing
Pricing at Sir Links A Lot is very competitive. If you take on the company's link building services, you can expect to pay at least $179 for a link through a premium DR 20 to 35 domain.
This also means that you still have access to the team's best tools and their manual, organic approach to link hunting, too. Nothing is automated, and nothing is impersonal.
However, they also offer a 'standard' service which works out a little more affordable! For $119, you can pay for a niche sensitive link that connects through a DR 20 to 35 domain. This is one of the lowest prices for a link of this quality. It's excellent value.
Even for their most premium of packages, the DR 51+ linkage, you only need to pay $369. This might be a great option to take if, for example, you are starting to move into higher quality links and are unsure about buying into bigger packages for the time being.
You should also look into other services and specialisms that Sir Links A Lot offers across the board. The team supports a fantastic array of services at affordable rates – all of which we don't have the space to go into in extensive detail here!
Sirlinksalot Overview
Sir links A Lot is a relatively young SEO firm built up in 2017 by Nick Altimore and Chris Tzitzis, who set out to change the game as far as link building and SEO marketing was concerned.
They have set up a brand which is straightforward, no-nonsense, and which trades in purely trustworthy, actionable and organic information. They are based in Austin, Texas.
Trust is their primary focus, and to help build this, the relatively small team continues to run regular free resources to help people learn more about the power of link building and simple SEO in general.
They have created a range of different services to appeal to the SEO beginner, as well as to support those business owners and entrepreneurs who may have a few more years behind them in optimisation. They have a comprehensive social media presence and are one of the fastest-growing link builders online right now.
Sir Links A Lot Contact Details
Get in touch with Sirlinksalot through the following means:
What Others are Saying
To complete our review, we also got information from people who have used Sir Links A Lot.
"Sir Linksalot's services are refreshing. It's great to get some insight into SEO and links that isn't completely bogged down with jargon."
"Sirlinks' online resources are fantastic. The guys really do care about creating genuine results for their clients. I can't thank them enough for all their hard work."
"I really can't recommend Sirlinksalot more – they are helping me break through a really tough niche that's just not been working for me lately. It's a miracle."
Final Thoughts About Sirlinksalot
Sirlinksalot positions itself as a fantastic resource for SEO and link building strategies which will appeal to newbies and those who are unsure about building authority.
From carrying out our review, we found they have a fantastic array of services, but you will undoubtedly want to check out their guest posting and link building options as a priority. It's excellent value, too!
All Link Building Agencies
Here is the full list of the link building companies we have reviewed:
The top-rated link building company reviews were updated in April 2021.