Are you struggling with debts?
If you are looking to have an IVA you need to choose a reputable insolvency practitioner in Manchester.
The best IVA company in Manchester 2023 is there to assist you with debt solutions.
There are many IPs in Manchester to choose from but here is the updated list of the top-rated IPs in the UK.
Best IVA Companies in Manchester 2023
Here are some options for IVA companies to contact in December 2023:
Hanover Insolvency
Trust Debt Advice
NTF Financial Solutions Insolvency
Creditfix Insolvency
Stepchange
What Is an IVA?
IVA is the universal acronym used to refer to an Individual Voluntary Arrangement.
It can however be fully defined as a contractual agreement between a debtor and a creditor that allows the debtor to repay their loans as per their financial capabilities.
It is important to note that unlike a debt management plan, this agreement is legally binding and requires an insolvency practitioner to help organize and administer it.
What Is an IVA Company?
An IVA company is the firm or agency that helps you set the IVA process into motion.
They will have a team of professional insolvency practitioners and advisors that will walk you through every step of the way.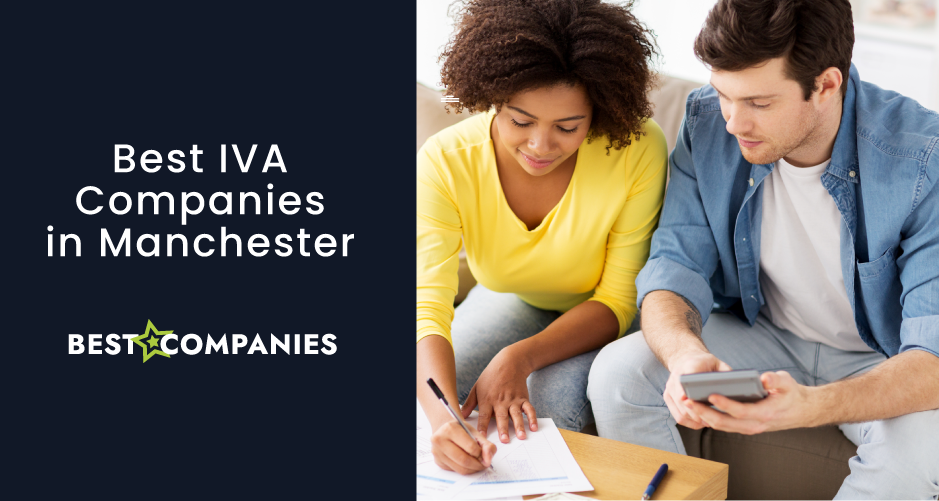 Insolvency Practitioners in Manchester
We know how difficult it can be to find a good local IVA company and therefore compiled a list of some of the top IVA firms with a registered office in Manchester.
Poppleton & Appleby
Poppleton & Appleby is an IVA company comprised of accountants, lawyers, insolvency practitioners, and advisors with years of experience in the field.
Their IVA process is simple. First, they assess your financial situation, then make an estimate of your earnings and spendings to ensure that you're making the right choice. If there are better debt solutions, then you will be advised on them.
The debt advice given during the first stages before the commencement of the IVA process is free. Once it has been determined that an IVA is indeed a viable option, then Poppleton & Appleby will connect you to their certified insolvency practitioner who will oversee the process.
Aside from IVA, this firm also does debt consolidation, debt management, business health analysis, and bankruptcy annulment. Poppleton & Appleby is licensed by the Insolvency Practitioners Association which adds to its credibility as a good IVA company.
Bennett Jones Insolvency
Bennett Jones claims to have a joint experience of more than 2 centuries in insolvency advice and management of debts. Although combined, this shows the quality they have within their team and makes them adept at handling your IVA as well as any debt issues you might have.
If you still question their competency, then we should add that their insolvency practitioners are all licensed not only by the Insolvency Practitioner Association but also by the Institute of Chartered Accountants of England & Wales (ICAEW).
Other than IVA, Bennet Jones offers a number of other debt solutions. They include debt relief orders, debt consolidation, bankruptcy, and debt management plans.
If you're simply looking for IVA advice then you can contact them through their toll-free number and receive the advice free of charge. You could also head over to there website where they have a ton of information on debts and money management.
Unity Corporation LLP
Unity Corporation LLP is comprised of a team that against all odds pulled themselves out of a tough spot in their life to run a successful IVA company in Manchester.
Their team was part of an insolvency department within a large public limited company a couple of years back, and all was well until the company made a decision to do away with that unit in 2012. They had to deal with the sad reality that they were unemployed.
However, they did not let this keep them down. With such talent and experience within their team, they decided to create their own company.
Their story is quite inspiring. It shows that they too have gone through a tough period in their life and understand how difficult it must be for you as well.
Their life-changing experience combined with their award-winning excellence makes them one of the best IVA firms in Manchester.
In addition to IVA advice and guidance, you can also get debt relief order services and debt management services.
Unity Corporation LLP is authorized by the Insolvency Practitioners' Association. As a matter of fact, one of their colleagues is actually part of the Insolvency Practitioners' Association committee.
HJS Recovery
While designed to help firms and organizations with debts, HJS Recovery also does IVA. They have a registered office not only in Manchester but also in Belfast, Birmingham, Cardiff, Durham, fleet, Glasgow, London, Portsmouth, Reading, and Southampton.
With over 20 years of experience and such a presence within the UK, you will find HJS Recovery quite a wonderful IVA company to use. Such availability can also increase their capacity to negotiate with your creditors to accept an IVA. You require 75% of your creditors to accept the IVA.
HJS Recovery will give you free advice on IVA and then set you up with one of their insolvency practitioners to help you create a budget when your individual voluntary arrangement is accepted.
HJS Recovery also offers a number of other services you might find helpful. They include business recovery services, company administration, debt consolidation help, company voluntary arrangements, debt arrangement scheme, company liquidation, VAT arrears, and trust deed services.
Moreover, you can use their website to find more information and advice on debt as well as company management.
Begbies Traynor
Begbies Traynor is a top-tier business recovery and advisory firm with over 78 offices spread all across the UK, including Manchester. They offer their services to shareholders, business owners, solicitors, banks, creditors, directors, and accountants.
Begbies Traynor has been around for 3 decades now and focuses on property management, individual voluntary arrangement, bankruptcy, liquidation, restructuring, corporate advice, and forensic accounting.
With such a background they are in a great position to negotiate with your creditors in case you would opt for other debt payment plans.
They can also help you set up an appropriate proposal to send to your creditors through their team of licensed and highly qualified Insolvency practitioners.
Summary
Debt can be a stressful time and speaking to a debt advisor will help you with various solutions.
An IVA Manchester IP will be able to discuss the repayments into one affordable monthly plan.
Other Debt Solutions
An IVA is not the only debt solution you have and this is where speaking to a qualified debt advisor is very important.
After speaking to a debt consultant you might realise the best solutions are one of the following:
Make sure you take time to understand all the debt solutions available before making a decision because DMPs (aka debt management plans) are also a popular choice in the United Kingdom.
All UK Insolvency Practitioners
Here is a full list of Insolvency Practitioners in the UK:
The insolvency practitioner list above gives you plenty of options to choose the best IVA firm in December 2023.