Many are worrying "they can't repay Freemans Catalogue Debt" and what solutions there are?
Check out our comprehensive article here if you are struggling to repay catalogue payments.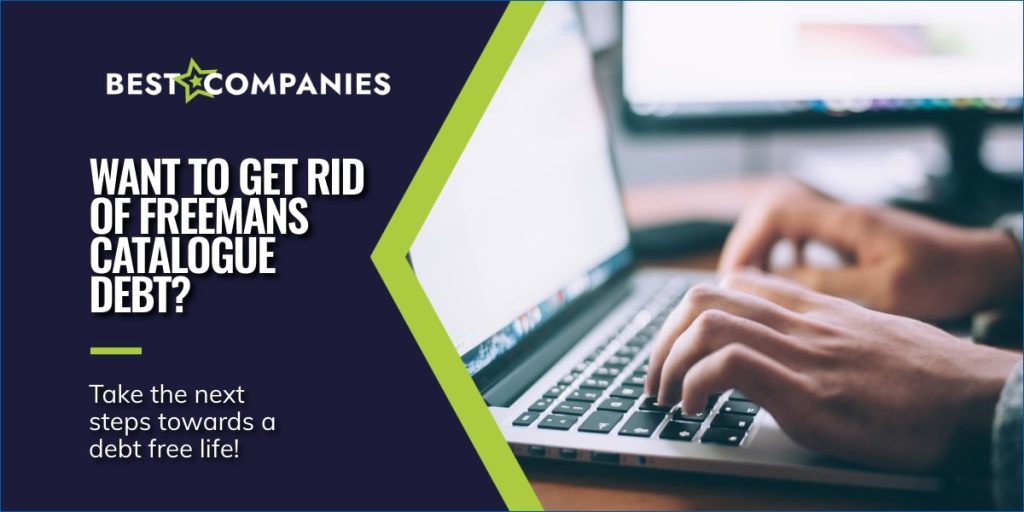 If you are struggling with your catalogue debt payments, you are not alone.
In our Freemans Catalogue Debt guide, we will explain whether your Freemans debts can be written off.
We will also offer catalogue debt help solutions and explore whether you can get a CCJ for catalogue debt.
I Can't Pay Freemans Debt – What Should I Do?
Do not ignore debts from Freemans Catalogue because the debt will never go away until you set up a repayment plan or speak to a professional debt service.
When speaking to a specialist debt consultant he can run a disposable income check on your current financial situation and give you all financial solutions available in December 2023.
Some search "how to get rid of Freemans Catalogue debt without paying" and depending on your financial history there could be ways to legally write off debts.
With just a few easy online questions you can see all options available from you here:
It is important to try and tackle your debt as quickly as possible, as to not let it build up over time.
As soon as you fall into debt with catalogue companies, make sure to reach out to a trusted debt help advisor.
Debt advisory services can help you make a reasonable and achievable repayment plan.
Who Is Freemans Catalogue?
Freemans is an online catalogue clothing retailer, that is based in the UK.
Their headquarters are in Bradford, which is located in West Yorkshire, England.
Freeman mainly provides clothing, but they also offer footwear and homeware to their extensive client base.
Freemans belongs to the Freemans Grattan Holdings group, which also own brands such as Lascana and Kaleidoscope.
In 2005, Freemans introduced credit and debit payments, alongside their credit account option.
Credit accounts gave customers the option of making weekly or monthly payments for items.
Make sure to use credit accounts wisely, as if you miss payments this can negatively impact your credit rating.
How Do I Pay Off Freemans Catalogue Debt?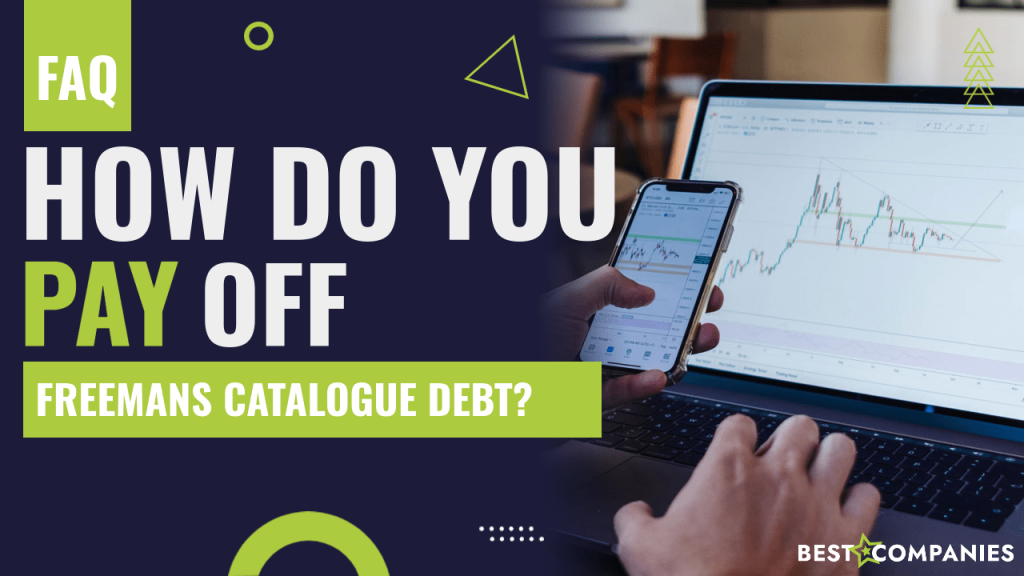 When looking for the best way to pay off Freemans debt you have many options:
Repay debts using a credit card
Set up a monthly repayment plan direct
Speak to a debt advisor on various debt solutions
You don't have to stay in debt forever, remember that there are many ways to pull yourself back to financial freedom.
Don't be scared to ask for help. Many people in the UK struggle with debt, you aren't alone.
Can I Pay Off Freemans Catalogue Debt With a Credit Card?
You can pay off debt using a credit card, but this could get you in deeper debt on your credit file.
Creditors might be reluctant to offer higher credit limits if they see you're already struggling to repay debts.
A higher credit limit may seem like a wise idea, but raising your credit limit can push you further down the rabbit hole of financial insecurity.
Always speak with a debt adviser before attempting to raise your credit limit, as they could suggest other plausible options that won't impact your credit rating.
Credit cards allow you to transfer money to repay Freemans catalogue debts but make sure you check the interest and fees from your credit card provider.
Should I Pay the Minimum Amount to Freemans Catalogue?
The minimum payment is the amount the customer needs to make to avoid being charged with late fees and to maintain their repayment history on their credit report and credit file.
When making minimum payments on your catalogue debt, the total amount of catalogue repayments owed can actually increase.
The subtotal money in arrears can increase because making the minimum payment might not cover the amount charged in interest.
You may need to increase the minimum monthly payments to an amount where it starts to decrease the debt, as you pay less of the interest rate.
With the debt levels to the catalogue company increasing, this can place individuals in a status known as 'persistent debt'.
It is strongly advised if you get in a state of persistent debt to speak to a specialist debt company that can free unsecured debt interest rates.
One easy way to escape persistent debt is to increase minimum payments, but there are more solutions than this.
Having to pay interest and charges, while not being able to reduce what you actually owe, can mean repaying debt takes a very long time.
If you have received a letter informing you that you are in persistent debt, read our persistent debt guide today.
Do Not Pay Freemans Catalogue Until You've Received Free Debt Advice
Catalogues are unsecured debts and it is always advised to speak to a financial advisor for free advice before making any payments.
Do not make any payments until you have received professional advice to understand all the solutions available to you.
Here are all the debt solutions available to you depending on where you are based in the UK:
Knowing you have debt hanging over your head can be scary. You may want to pay quickly to prevent the matter from escalating.
It is important to speak with a professional financial advisor first, as they can check the debt is yours, help create an achievable repayment plan, and advise you on how to deal with the debt collection agency.
Complaining About Freemans Catalogue Debt Collection
If you have a complaint, you should send a formal letter to:
Customer Services
2 Nunnery Square
Sheffield
S2 5DD
Alternatively, you can contact their customer care team via webchat, email or phone.
You can email them via their online enquiry form or you can call them on 0333 200 8077.
If you are wanting to speak with an advisor via live chat, they offer a virtual assistant feature.
The virtual assistant is available 24/7. Their customer care team are available from Monday to Saturday, from 8 AM to 8 PM.
Make sure you contact their customer service within opening hours to ensure your concerns are dealt with in a reasonable time.
They aim to respond to any queries within 24 hours of receipt.
If you don't feel like Freemans have handled your complaint in a fair or timely manner, then you can take your complaint to the Financial Ombudsman Service (FOS).
The FOS' contact details are as follows:
Popular Questions
Can you get a CCJ for Freemans catalogue debt?
Freemans catalogue can apply for a County Court Judgement (CCJ) to be brought against you to retrieve their money owed.
Only the court can implement the CCJ for your catalogue of unsecured debts owed.
If you do not keep up with payments to your CCJ then and only then will the court, not the catalogue, have the authority to send in bailiffs.
Can Freemans catalogue send bailiffs?
Freemans catalogue company do not have the authority to send bailiffs to your home.
Catalogue companies are also not allowed to take any of your personal possessions in order to pay for your unsecured debt.
Only the court, not the catalogue, have the authority to send in bailiffs if you fall behind on payments to your CCJ.
What happens if i don't pay Freemans catalogue?
Freemans catalogue company reserve the right to impose a charge to cost the cover of missed or insufficient payments and are entitled to debit your account with any costs incurred by them.
Catalogue companies will ask you to catch up with the debt arrears and if you can't pay the creditor the account will default and further action could be taken against you.
You are signing a consumer credit agreement when you have a catalogue account, which means the debt is enforceable in the courts.
Missed payments can negatively impact your credit rating, so it is best to get your catalogue debts written off and paid as soon as possible.
How Do I Close My Freemans Catalogue Account?
You can close your Freemans account by contacting their customer care team, provided you have an empty balance with transactions pending.
You can contact Freemans via any of the methods listed above.
Make sure you can provide them with the following:
Full name
Address and postcode
Date of birth
Account number
With the above information, the customer service advisor will be able to correctly identify your account.
Once, they have found your account and have documented your decision to leave, then they will terminate your account immediately.
Please bear in mind that they may hold your financial information for up to 7 years.
Rest assured, they only hold information that they are legally required to.
If you have any concerns about having your data held, you can read their data policies online.
Final Thoughts
Overhanging debt can be constantly on your mind, making everyday life much harder.
This doesn't have to be the case.
There are ways to become debt-free, you just have to be patient and take the right steps to financial freedom.
Always speak with a debt advisory service, as they can help you formulate a sensible plan for catalogue repayments.
You can get catalogue debts written off, all you need is sound catalogue debt advice to guide you.
Take steps to clear your outstanding balance today. Get the weight of debt off your shoulders.
Struggling With Other Debts
Here are some other debt guides if you are struggling with different types of debts: