When a creditor has a court order against you, they can apply for another court order, called a charging order, that secures the debt against your home or other property you own.
An interim charging order prevents any sale of the property until a final charging order hearing can take place. At the hearing, a final charging order may e granted with or without an order for repayments. Any order for repayment would be limited to the surplus income available (same approach as AOE). Once secured the charge remains against the property and is repaid in the event of sale. Any shortfall following sale would become an unsecured liability.
Charging orders only apply to court action in England or Wales, but similar actions can be taken in the Scottish courts and Northern Irish courts.
If you are having a charging order raised against you then take the short quiz to see all your available options.
FIND OUT THE BEST DEBT SOLUTION BESPOKE TO YOUR FINANCIAL SITUATION
30 SECOND DEBT ASSESSMENT QUIZ
In this Charging Order guide, we explain everything there is to know about Charging Orders in the United Kingdom.
Table of Content [show]
What does charge order mean?
A charging order (CO) places your property as collateral for your debts. Essentially, it turns your unsecured debt into secured debt by tying your assets to your debt should you fail to make your repayments.
This means that if you sell or remortgage your properties whilst you still possess debt, then the debt will be paid off using the proceeds you make from the sale.
A CO can only be claimed if the creditor first takes out a County Court Judgment or a CCJ.
Where in the UK can charging orders be taken out?
Charging orders are available in England, Wales, and Scotland. However, if you are situated in Northern Ireland, a similar order can be taken out against you by the courts.
In Northern Ireland, an OCL, or an Order Charging Land, can be taken out against, which does the same thing as the Charging Orders Act 1979, by securing property against the debt.
When can my creditors get a charging order?
Creditors are only able to get a charging order if they have taken out a CCJ.
Once they have obtained a CCJ, then your creditor must contact the court again to request to obtain a charging order.
If your creditor got a charging order after 1 October 2012
From the 1st of October 2012, if a creditor takes out a County Court Judgment, then they can also issue a charging order.
The charging order can be issued alongside your CCJ, even if you are up to date with your County Court money repayments.
If your creditor got a charging order before 1 October 2012
Prior to the 1st of October 2012, your creditor could only take out a charging order if you missed your CCJ repayments or you did not make a full repayment as ordered by the court officer.
If you remained punctual with your CCJ payments and didn't make any late payments, then your creditor could not take out a charging order.
If you were asked to make a full repayment by the court, you could ask the County Court money claims centre to switch to monthly repayments instead.
Monthly payments can help you avoid a charging order as it means you won't have to make a costly full repayment in one instalment.
Is a charging order serious?
Yes, a charging order is very significant and should be taken seriously.
If your creditor has taken out a charging order against you, then there is the chance that you could lose your home.
Once the court officer has awarded a charging order, then the creditor may choose to seek out an Order for Sale which forces the debtor to sell their home, in an attempt to repay their County Court money.
So, it is important to recognise the severity of having charging orders or County Court Judgments out against you, as it could result in loss of assets.
What process is taken to apply for a charging order?
In order to apply for a CO, there are two stages that you must go through; the interim order and the final order.
Interim charging orders
Interim charging orders are granted to prohibit the sale of property without the creditor's knowledge.
Typically the interim charging order is permitted by a court officer without a court hearing date.
Once the court grants the interim charging order, then your creditor is obligated to send you a copy of your interim charging order debt within at least 21 days of the order being confirmed by the court.
What is the process of applying for an interim charging order?
If your creditor wants to take out an interim charging order, then they must take the following steps:
First, your creditor must send an interim order form to the court with proof from the Land Registry of the debtor's property, that they own or jointly own.
Once the court confirms that the property is outright or partly owned by the debtor, then an interim charging order will be sent via a form N86 and a form N379. These forms will explain why the interim charging order has been issued; they will also be sent to any joint owners of the property, your mortgage advisor, and any other creditors.
The Land Registry will place a restriction on your property which prohibit you from putting your house up for sale until a final charging order hearing has taken place. Confirmation from the Land Registry will be sent via a B136 form.
Once the interim charging order has been received, you have 28 days to write to the court and object to a final charging order.
Why would an interim charging order be decided with a hearing?
Normally an interim charging order is decided without a hearing in court, however, there are some circumstances where a hearing might be required.
The following reasons may warrant an interim charging order hearing:
You do not own the property and won't receive any equity from its sale.
Your CCJ was issued before the 1st of October 2012 and you have not missed any payments.
The creditor has not correctly followed the interim charging order procedure, such as they have not informed joint tenants of the order.
During the court hearing, the judge can decide whether to accept the interim charging order or deny the request.
Keep reading to find out how a charging order might impact your credit rating.
Final charging orders
The next step of the charging order is the final charging order. If the individual with whom the interim charging order is against has not filed an objection within the 28-day limit, then a final charging order may be submitted.
What is the process of applying for a final charging order?
Whether a final charging order is appointed or not falls upon the court officer or the District judge to decide.
If the debtor wrote to object to a final charging order, the written objections will be taken into account before making the ultimate decision.
Typically, most final charging order hearings are set at the local court, or the judgment debtor's home court, with the District judge. If you are unable to attend your hearing, make sure you ask for a different hearing date.
After debating the final charging order evidence, the judge will confirm whether to set a final charging order or not and confirm the conditions.
Once the final charging order has been confirmed by the court, the debtor will be sent documentation via a form N87.
After a final charging order has been appointed, then the creditor can seek an Order for Sale. So, it is in your best interest to prevent a final charging order from being confirmed; keep reading to find out how.
Can you stop a charging order?
You might be able to dismiss a CO if one of the following applies:
If you haven't missed any CCJ payments
If your CCJ was taken out against you after the 1st of October 2012, then you might be able to avoid a charging order by ensuring you have met all of your CCJ payments on time.
The judge is more likely to dismiss a charging order if they feel you have made efforts towards meeting your monthly payments.
If you have no equity
If you are unlikely to make any profit by selling your property then your creditor is unlikely to receive any repayment of debt even if you did sell your home.
Therefore, the judge may rule against a charging order, as it would be deemed useless and wouldn't benefit your creditors in any way.
If some creditors aren't asking for a charging order
Some individuals may have more than one creditor with whom they have outstanding debt.
If the majority of your unsecured creditors have agreed to allow you to repay your debts via instalments or other debt solutions, then it may seem unsuitable to take out a charging order at the request of just one creditor.
So, if you only have one credit that is applying for a charging order, then you might be able to get the judge to dismiss the order.
If you have joint owners on your property
If you have other family members living in your home or you own a property jointly, then you could claim that it would be unfair to sell your property as it would severely affect the other residents.
For example, if you have any children, elderly, or disabled residents, they might struggle to be relocated should the property be sold.
It may also be deemed unfair to sell the home if you are not the sole owner. If the other resident does not have any relation to the outstanding debt, then it may not be justifiable to make them sell their home too.
If a charging order is unfair to other creditors
If you have multiple creditors, you could argue that a CO to one creditor would be an unfair advantage.
There is a risk that a charging order could force you into bankruptcy, or sell your home, making it harder to meet other repayments, such as mortgage payments.
This would be unfair to unsecured creditors, as there will be less chance of them receiving their outstanding payments.
What can you do once a final charging order is made?
If a final order is confirmed, then there are a few options you can take to make the situation more manageable
Firstly, you might want to seek out qualified debt advice. Other options include:
Apply for the charging order to be set aside
Final charging orders can sometimes be set aside, which means your creditor or other creditors must reapply through the court if they would like to pursue any further action against you.
One benefit of setting your charging orders aside is that it may award you additional time to make your debt repayments and to seek professional debt advice.
You can only apply for your order to be set aside if you feel, or if the court officer thinks, that the evidence for a charging order was not dealt with or reviewed properly.
For example, if your civil partner or joint owner of your property was not informed of the charging order or order for sale, there may be ground for dismissal.
It is crucial that you put forward your application for a set aside as soon as your final charging orders have been confirmed, using the N244 court application form.
Asking for conditions to be attached to your charging order
You can ask for attached conditions to your instalment order, which will prevent your creditor from compelling you to sell your home straight away.
There are certain conditions which might influence when the creditor decides you need to put your property up for sale, such as, if you have a child in education or you have an agreed payment plan.
Depending on all the circumstances and your personal circumstances, there may be other conditions that would be accepted.
You can provide written evidence as to why you need a certain condition attached to your order, and wait to see if the high court agrees.
Getting a final charging order changed
You might be able to amend the conditions of your final order if your financial circumstances significantly change.
You would need to provide the high court with a financial statement to demonstrate how your economical standing had changed since the order final had been set.
The conditions of your order might state you have to repay creditors in instalments. If your financial situation changes, you might be able to ask to court to change the date of the final repayment.
If the court decides you can change your final date of payment, then this will allow you more time to pay the court costs and the outstanding creditor debt.
Does a charging order show on your credit file?
No, charging orders are not directly reported on your credit file. However, your CCJ will be recorded and may impact your credit rating.
In order to take out a charging order, you need to take out a CCJ.
Your CCJ will remain on your credit report for a minimum of six years and may have a negative impact on your credit score.
A negative credit score may make other areas of your finances more difficult, such as taking out another loan or applying for a mortgage.
Therefore, it is of beneficial interest to attempt to avoid having a CCJ taken out against you.
Does a charging order expire after 12 years?
Under the Charging Orders Act 1979, charging orders are recorded on the Land Registry until the debt has been completely repaid.
Once the debt has been repaid in full, then the order can be removed from the Land Registry.
It is only in Scotland that charging orders expire after a 12 year period.
Do charging orders have interest?
COs can have interest attached to them in certain situations.
If the court-ordered conditions include statutory interest, the interest will be standard rates.
If a creditor takes court action for a debt that is regulated by the Consumer Credit Act:
In this circumstance, any interest is ceased when the CCJ is issued; this includes interest on overdrafts, credit cards, and other loans.
In extenuating situations, interests may be permitted, such as, if the original CCJ agreement included interest rates.
If the charging order debt is not regulated by the Consumer Credit Act:
If your debt is not regulated by the Consumer Credit Act and is over £5,000, then a statutory interest of 8% can be added.
The interest includes utility bills, benefit overpayments, legal aid, or bankruptcy payments.
What happens if a charging order is taken out against you but you joint own a property?
If you are a joint owner of the property to which the CO is against, your joint tenant will be made aware of the order by the judgment creditor.
The judgment creditor has an obligation to make any shared tenants aware of the County Court Judgment or any other orders that might impact them directly.
What happens to a charging order when someone dies?
If you hold a charging order against a property that is joint-owned, the terms and conditions around what happens when a tenant dies may change from the standard.
Typically, when one joint owner passes away, sole ownership of the property is transferred to the surviving tenants.
However, if there is an order attached, then their share of the property will form part of their assets to which they can repay their debts, their estate will not automatically transfer to their joint tenant.
What happens when a charging order is paid off?
Once you have paid off a CO, you can apply to the court to see if they will write the order off as discharged.
The court may then provide you with a certificate of satisfaction on your CCJ, but make sure you always ask them to include evidence of payment. This ensures that you have proof that a full repayment has been made.
Using the evidence, you can apply to get your records on the Register of Judgments, Orders and Fines altered to reflect your repayment.
Normally your creditors will contact the Land Registry to make them aware of your discharged order, however, it may be of beneficial interest to contact them yourselves to make sure their registry has been amended.
What is an Order for Sale?
An Order for Sale is the next action that your creditor can take against you if they already have a charging order.
The Order for Sale would force you to put your house on the market, to ensure that you can repay your judgment creditor with the profits from the sale of your property.
Order for Sales are only a viable option if your debt is over £1,000 and if you have missed payments from your CCJ.
Having an Order for Sale taken out against you as a judgment debtor is unlikely, but not impossible. So, make sure you make significant efforts to meet repayments and avoid falling into debt with your secured loans.
FAQs
Can I sell my house with a charging order?
Under the Charging Orders Act 1979, you can sell your property, however, you must make your judgment creditor aware prior to the sale going through.
The same goes with remortgaging your house. You are able to remortgage your home if you have a charging order, however, you cannot do so without first letting your judgment creditor know.
Is a charging order a CCJ?
No, a charging order and a CCJ are two separate orders.
If your judgment creditor wishes to take out a charging order against you, then they must first take out a CCJ.
What is a judgment forthwith?
A judgment forthwith is the opposite of an instalment order, in which the debt must be paid in one instalment straight away, rather than in several monthly payments.
Are there other types of charging orders?
Typically, charging orders are taken out after a CCJ to secure debts, however, there are other circumstances where this kind of order may be taken.
These include:
Legal aid – If you seek and obtain legal aid throughout any court proceedings, then the Legal Aid Agency can request a CO to ensure the judgment debtor can repay their debts.
Bankruptcy – If you have to file for bankruptcy but your equity is minimal, then a charging order may be taken out against you, to ensure the judgment creditor receives some of the profits.
Council tax – If you have unpaid council tax, with your local council, then they may consider taking out a CO to try to reclaim the money that is owed.
Do Not Speak to Debt Solicitors Until You Know About This?
Find Out More
Debt Solutions
When analysing your credit report and current debtors it is advised to understand all the debt solutions available to you.
Here are all the UK debt solutions available to you depending on where you are based in the UK:
Summary
To conclude, a charging order is a court-ordered action which allows judgment creditors to attach your property to your outstanding debts, converting unsecured loans to secured loans.
The court set the order once a CCJ has been secured, and it essentially allows creditors to receive some form of payment when you remortgage or sell your property.
If you wish to object to your order, then are ways to do so. It may be beneficial to speak with a debt advisor once you realise a CCJ is being taken out against you.
Debt advisors or a debt charity can help you make the right steps to help you get out of overhanging loans.
Did You Know You Can Write Off Up To 85% Of Your Debts?
Do I Qualify?
The Journey of Debt
Here is the path of debt – from arrears to enforcement.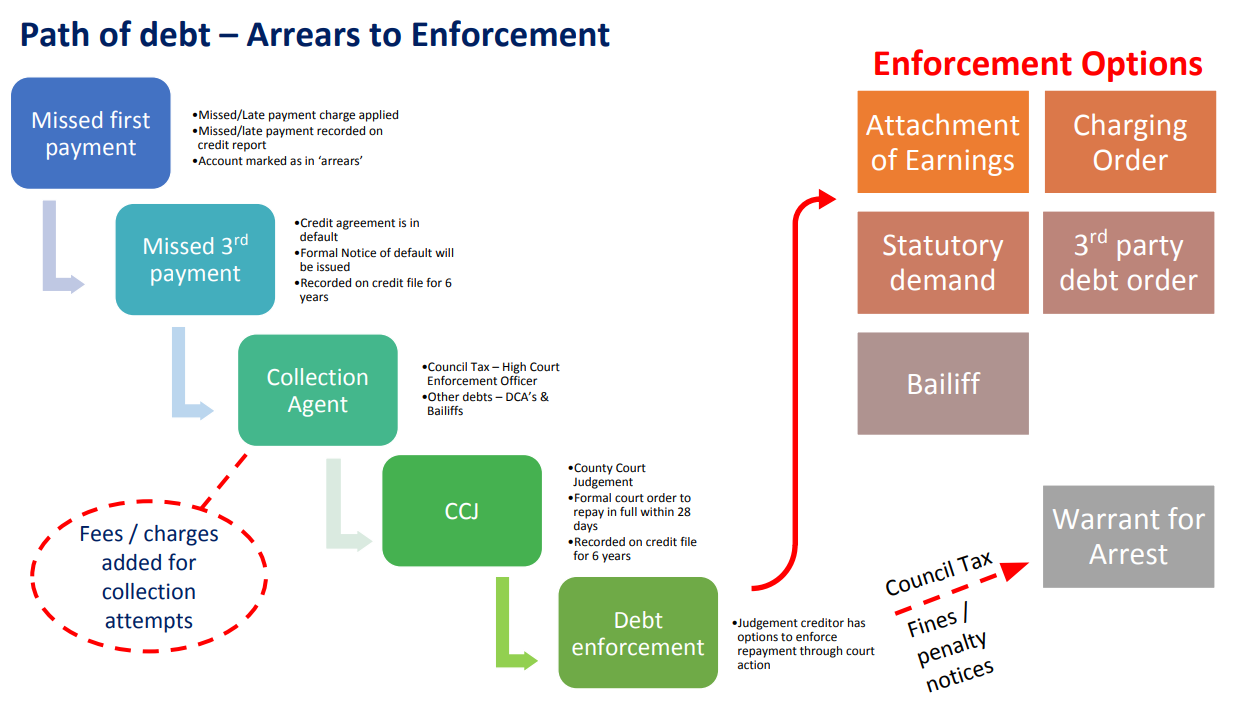 A charging order is one of the Debt Enforcements that can be issued after a CCJ has been raised.