Credit Card defaults are when you break the terms of the credit agreement.
A default notice is served by credit card providers after missing payments on your credit agreement and the creditor decides there's no chance of being repaid.
Your credit card provider can only cancel your agreement and serve a default once, but after this happens your creditor can take further action to collect the debt.
Check out this guide if you are struggling to repay credit card payments.
What is a default notice?
A default notice, otherwise known as a notice of demand, is the formal letter that is sent by a creditor, to a debtor, after they have missed payments multiple times.
A default letter informs debtors that they have up to 14 days to repay the overdue funds before a default is added to their credit file.
Within the default letter, there will be information detailing what further action might be taken, should the repayments fail to be made.
Never ignore a default letter, as this might result in more serious action being pursued. For example, if a default is assigned to your credit account, it will stay there for up to 6 years, which can make other areas of your finance, such as taking out a loan, a lot more difficult.
How do I recognise a notice of default?
You can recognise a notice of default, as the default notice will have the following:
A bolded sentence at the top of the letter stating 'important you should read this carefully'.
A bolded sentence at the top of the letter stating 'Default notice served under section 87(1) Consumer Credit Act 1974'.
A statement to confirm the amount of money that is overdue.
The deadline to make the repayments by – typically 14 days after receiving the letter.
An enclosed information sheet from the FCA (Financial Conduct Authority) that advises you to seek debt help.
A default notice may also suggest you seek assistance from a lawyer or Trading Standards, however, this is not always required. There are free debt charities that can provide confidential and professional debt advice.
What happens when you get a default notice?
A default notice will be sent in the form of a letter, from the creditor to which you owe money.
Your creditor needs to send a default notice before they can take any further legal action, so you must take the notice seriously and not ignore it.
The default notice will include the following details, which you should take into account:
Your name and address.
The name and address of the company to which you owe money.
Details of your credit contract.
Explanation as to how the credit contract has been breached.
Explanation as to how you need to repay the money.
Explanation of the next steps the creditor may take if you fail to pay.
Once you receive the notice, you need to check all of the information noted on the letter is correct. If anything is incorrect, there may be grounds to which you can dispute the default letter.
You should seek out free debt advice as soon as your receive a formal letter from a debt collection agency or a creditor.
Frequently Asked Questions
Is a default notice bad?
Default notices and missing payments can be bad as there is a chance your credit rating will be negatively impacted.
However, provided you act quickly and deal with the default notice properly, the situation doesn't have to escalate.
If you choose to ignore the notice of default, then your creditor may make you repay the entire outstanding debt, the default may go on your file for six years, and a County Court Judgment may even be taken out against you.
If you owe over £5,000, your creditor may even be able to force you into bankruptcy.
Always make sure you seek out professional debt help, as soon as you receive a default notice.
Is a default notice a legal requirement?
Yes, under the Consumer Credit Act 1974, a letter of default must be issued by a creditor before any further legal action can be taken.
If you have not received a default notice, but your creditor is trying to take you to court, you may have grounds for dismissal.
Speak with a debt advisory service to seek professional advice.
How long do default notices stay on your credit file for?
A default will stay on your credit records for six years.
Keep reading to find out whether you might be eligible to get your default dismissed.
Can I stop a default notice?
You can stop a default notice by paying the outstanding balance on your debt within the 14-day time slot.
If your default has gone through, then, unfortunately, there isn't much you can do about it. Once the default is on your credit file, there is no way of taking it off your credit file for six years.
What if I think the default notice was sent by mistake?
If the default notice was sent by mistake, then you might be able to get the default taken off your credit file.
You can ask for a default to be taken off your credit report if you believe any of the following is true:
You have paid the amount issued in the default notice already.
You think the notice was sent by mistake.
If your payments are not at least three to six months in arrears.
If you have only missed one or two payments.
You were sold unaffordable credit through an unethical credit contract.
Under the Consumer Credit Act 1974, a credit agreement must be affordable in order for it to go ahead. If you have been forced into default, due to an unfair agreement issued by loan companies or a credit provider, then you may be able to get your default revoked.
How do I ask to get a default notice taken off my credit file?
You can request a default be removed from your credit report by contacting your lender with evidence that proves the default notice was sent in error.
For example, you might be able to send them copies of your bank statements or bank accounts, to prove that payments have been made towards the debt.
Should your creditor refuse to remove the unfair default, you can escalate your request to the FOS (Financial Ombudsman Service), explaining why you feel your default has been issued immorally.
The FOS work to protect the individual financial circumstances of the public, so if they find you have been mistreated by a creditor or a credit reference agency, they have the ability to remove a default from an individual's credit file.
Does a default notice affect your credit rating?
Yes, a default notice can have a negative impact on your credit report and your credit score.
A default on your credit file for six years can tell other creditors or credit reference agencies that you failed to meet the terms of a credit agreement.
Default notices can pull down your credit score, however, you can take the following action to prevent a low credit score from hindering your finances further:
Pay off the default – Paying off the default after it has been issued won't improve your credit score per se, but it will show future creditors that you paid the debt, and you aren't that much of a risk.
Request a notice of correction – You can request that a notice of correction be tied to your credit file to explain why you ended up defaulting on payments. For example, if the default was due to extenuating circumstances, such as redundancy or illness, a note of correction can show creditors that this default was a one-off.
Failure to meet a credit agreement can tell credit companies that you are a risk, meaning they may not want to offer you a loan or engage in any financial dealings with you.
Due to this, you might be charged a higher APR, and you may find it harder to access other loans, such as a mortgage.
A default can drive your credit score down by a whopping 300 points, so it is always advisable to ensure you don't miss payments or ignore default notices.
What can a creditor do after I receive a default notice?
Creditors can take the following steps to try and reclaim unpaid debt:
Issue a County Court Judgment (CCJ), which could result in court proceedings and legal action being taken to reclaim the unpaid debt.
Hire a debt collection agency, in which they can enlist debt collectors to chase the overdue money.
Start legal proceedings to claim possessions included in the original agreement, this can include property or vehicles, that can cover the cost of the debt owed.
If you repay your unsecured debt, in accordance with the default notice timeline, then creditors won't have to take any further action to claim back their missed payments.
Seek out free advice if you are in financial difficulty, from a debt charity, such as Stepchange debt charity.
Can I be taken to court if I receive a default notice?
Yes, a creditor can take you to court if you fail to repay or respond, to a default notice. You will be made aware of any court proceedings via a letter of claim.
Court proceedings can be costly, so it is crucial to avoid the situation escalating to this point. If you have received a default notice, it tends to mean you are already struggling with your financial situation.
A letter of claim will include the following:
The money and interest owed.
A reply form, which you can use to confirm the debt is yours.
A financial statement.
An information sheet, which details your rights and what you can do next.
Debt charity information that you can use to find free debt help.
You will be sent a claim pack from the court informing you of the court action that is being taken against you, due to your account defaults.
If you ignore a claim pack, then you can be issued a CCJ, which will also stay on your credit file for six years. Not only that, but a CCJ can take your credit score down by a further 250 marks.
Should you decide to continue to ignore the situation and disregard any issued CCJ notices, you may fall liable for paying a range of court costs.
How can I offset the effect of a default notice?
There are many ways in which you can try and offset the effect of default. While you can't completely remove the default effect, you can attempt to improve your credit score in other ways, including:
Join the electoral register – Signing up for the electoral register is an easy way to give yourself a higher credit score. The longer you are on the register to vote, the better it looks on your credit file and credit check.
Meet repayments – Make sure there are no more payments missed, as more credit issues will only hinder your credit file further. So, it is important to keep on top of your finances whilst you have a default on your credit file.
Don't take out any further credit – Avoid paying any more credit for at the very least six months. This will help you avoid slipping further into debt.
Pay upfront – Certain types of payments, such as annual car insurance payments, are favoured by creditors. Paying annually, rather than monthly, prevents random and unnecessary credit checks.
Get a credit rebuild card – Certain credit cards are designed for individuals who struggle with low credit scores. However, these cards tend to have high interest and charges, so be careful! Only take out a card like this if you are certain you can meet repayments.
Debt management plans and default notices
It isn't unusual for an individual on a debt management plan (DMP) to be sent a default notice. All it means is that you are paying lower than your arranged monthly payment minimum.
Contact your debt management company and discuss what this means, but continue to make your payments as usual.
If a debt collection agency contacts you to discuss your default, while you are on a DMP, make sure you let them know you are on a debt management plan.
You should let your DMP provider know that debt collectors are getting in touch with you regarding a default notice, they will make sure that your payment plan is adjusted accordingly, and they will speak with the debt collector on your behalf.
If you receive a letter of claim, or any CCJ documentation, again, speak with your debt solutions company, as they can help you understand and plan your next move.
The Journey of Debt
Here is the path of debt – from arrears to enforcement.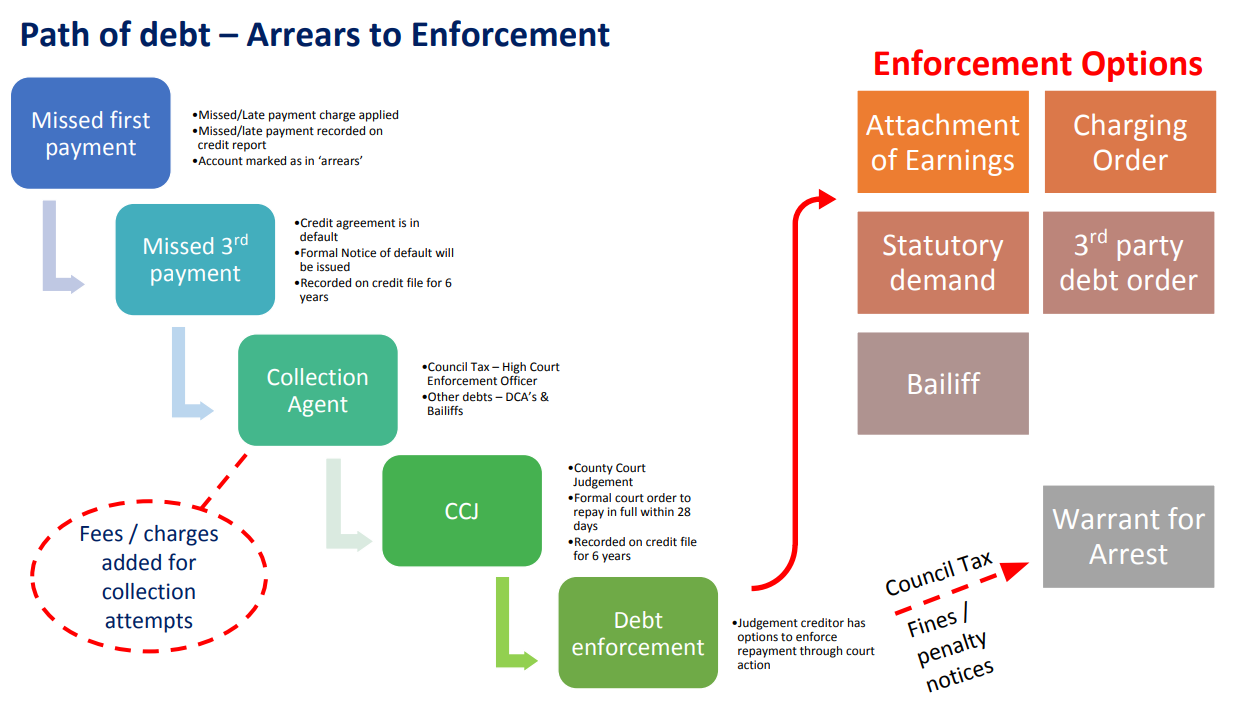 Final Thoughts
A default notice highlights that you have missed payments and can't afford our current payment plan.
If you receive a default notice, you should find a debt charity straight away. They can offer free and confidential advice, and they can point you toward the most suitable debt solutions for your unique situation.
Interested In Finding Out More About The Debt Solutions Available?
Find Out More
It is important to never ignore a debt letter, as it will only make matters much worse. In terms of your finances, ignorance isn't bliss!
Make a sensible move towards finding a debt solution, before the situation at hand escalates and gets out of control.
A default can have a negative impact on your credit score, so take up credit counselling if you cannot manage your finances successfully.
Debt Solutions
Here are the best debt solutions if you are struggling with debts and missing payments.