Link Building is recognised as one of the most important ranking factors to help your brand get to the top of the search engine results pages.
It is vital to buy quality backlinks to articles on your website with exceptional content is the holy grail of ranking in Google.
Buying the relevant powerful backlinks can get your website to rank number one in Google. But you need to make sure that you follow the rules and avoid poor-quality links, as it runs the risk of getting penalised by Google.
Sourcing the best link building agencies will avoid spammy outbound links and incorrect use of anchor texts.
The top-rated link builders will source highly relevant and authoritative backlinks to boost the power of the domain receiving the links.
In our Guide to Buying Backlinks, you will learn everything about link velocity, link diversity, where to purchase high quality backlinks and the danger signals to avoid in June 2022.
What is Backlink Buying?
Purchasing backlinks is paying for a link from another website that points back to yours.
When a link buyer buys backlinks, their primary goal is to improve the ranking of their website in search engines. Other goals can include increasing referral traffic or generating conversions, but this is uncommon.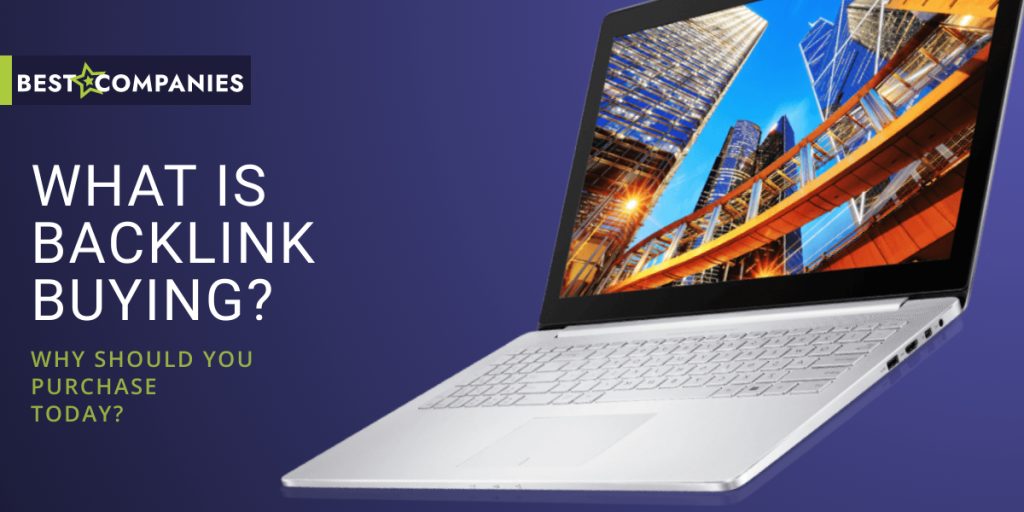 Backlinks are important because the number of links pointing to a website is a significant ranking factor for search engines such as Google. The more relevant and high-quality links pointing to your website, the higher you will appear on search engine results pages.
Higher search engine results mean more website traffic, more sales and profits. All of this makes backlink acquisition extremely lucrative, especially for business entities.
What Type of Link Building Services Do I Need?
Here are all the different types of backlinks you need to have a diverse link building profile.
Niche Relevant Guest Post Backlinks
Niche relevant guest post backlinks are industry-relevant links from other website owners' articles to yours.
Niche relevant guest posts can be great for your website as they help tell Google what industry your brand is in, and when powered up can offer some serious power back to your site.
It's worth noting that it's important that you acquire your niche relevant guest post backlinks from sites that are genuine, as spammy websites linking back to yours can sometimes have a negative effect on your search engine ranking.
Check out the Best Places to Purchase Guest Posts From.
High-Quality Niche Edits Backlinks
High-quality niche edits backlinks are similar in some sense to guest post backlinks but are links that are injected into existing articles as opposed to being written from scratch.
A high-quality niche edit backlink should be a link from a website's page that already has a lot of power, which in turn carries over to your site through the link.
Authoritative niche edits backlinks aren't as relevant as niche relevant guest post links but are typically a lot more powerful with existing backlinks already pointing to the web page.
Check out the Best Places to Purchase Niche Edits From.
Trusted Wikipedia Backlinks
Trusted Wikipedia backlinks are links from trustworthy Wikipedia pages that go back to your website. This link type acts as a great signal of trust and authority to Google, helping to confirm to them that your site is legitimate, trusted and authoritative, which can improve rankings.
Trusted Wikipedia backlinks typically aren't the most powerful backlinks around, but it's important to have link diversity within your link profile, and coupled with the trust these links offer, this can be an excellent link type to acquire.
One thing to be wary of with this link type is that sometimes these links can be removed by moderators, but there are companies out there that can acquire these links reliably.
Check out the Best Places to Purchase Wikipedia Backlinks From.
Citation Directory Listing Backlinks
Citation directory listing backlinks are links from online directories that categorise your business as operating in a certain industry, citing your business name, address, phone number and more.
Citation directory listing backlinks can be a great way to bolster out your link profile, as well as tell Google what your business does and correlate the NAP information with the information on your website.
With many businesses having these citation directory listing backlinks as part of their link profile, it's often good practice to acquire some of these yourself, in order to avoid becoming the odd one out in your industry.
Tier Two Backlinks
Tier two backlinks are backlinks that are built to power up your main backlinks, and can play a pivotal role in your link buying campaign.
Tier 2 links are often pointed at links such as guest posts, profile links and weaker niche edits, in order to increase their power and authority and for that power to filter back to your site.
It's important to remember that all of your tier 1 links may not be sending the power to your website that you need to rank, which is where a good tier 2 link building technique can come in handy.
Check out the Best Places to Purchase Tier Two Backlinks From.
Press Release Backlinks
Press release backlinks are links to your website that are distributed across many different press pieces across the web.
Press release backlinks are part of the same article, often promoting something new happening with the business, telling its readers and Google what your business is, and what's currently noteworthy about it.
This link type is great as press release backlinks can actually end up ranking in Google extremely well, and its well-known that links from pages that are ranking are extremely valuable for your own search engine rankings.
Social Signals
Social signals refer to mentions of your brand or service through social media posts online, such as Facebook, Twitter, Reddit and more.
Social signals can be a good source of brand exposure for your business, whilst instilling trust in Google through correlation of both brand mentions and a social buzz.
This is often a fairly inexpensive technique to carry out, and is good practice for businesses that need that extra push on social media platforms.
Private Blog Network Backlinks
Private blog network backlinks, commonly referred to as PBN backlinks, are links to your website from sites that are disguised as genuine sites, but in actual fact are owned, managed and edited by someone using the site's power to place links.
Whilst private blog network links do often carry power and can help with ranking, it's not advised that you build these types of links yourself, as Google is fairly hot on PBNs and tries their best to de-value their power if spotted.
There's an element of controversy around private blog network backlinks for a reason, so if you're a legitimate company looking to do things the right way, it's always recommended you opt for more sincere and Google-friendly link building services such as genuine guest posts.
Blogger Outreach Backlinks
A specialist blogger outreach team will source backlinks by fostering strong relationships with bloggers and blogging amazing content on their site.
The blogger outreach specialist will identify highly relevant places that would benefit from a great new article and link building to the customer's website as a trusted source.
Building relationships with blog owners and providing value for the users who read the guest posting domains will create better quality backlinks as the guest blogging web pages will rank highly and drive traffic.
HARO Backlinks
Using HARO outreach service is a powerful link buying strategy that connects journalists to sources and provides you with the rare opportunity to get high-quality media coverage.
HARO provides a solution to help your website gain the exposure your brand needs on the media outlet domains.
How Do Backlinks Work?
Backlinks work by sending power from one website's page to your own. This could be done in different ways, including from an article on a website, from the header/footer of a website and from the homepage of a website itself.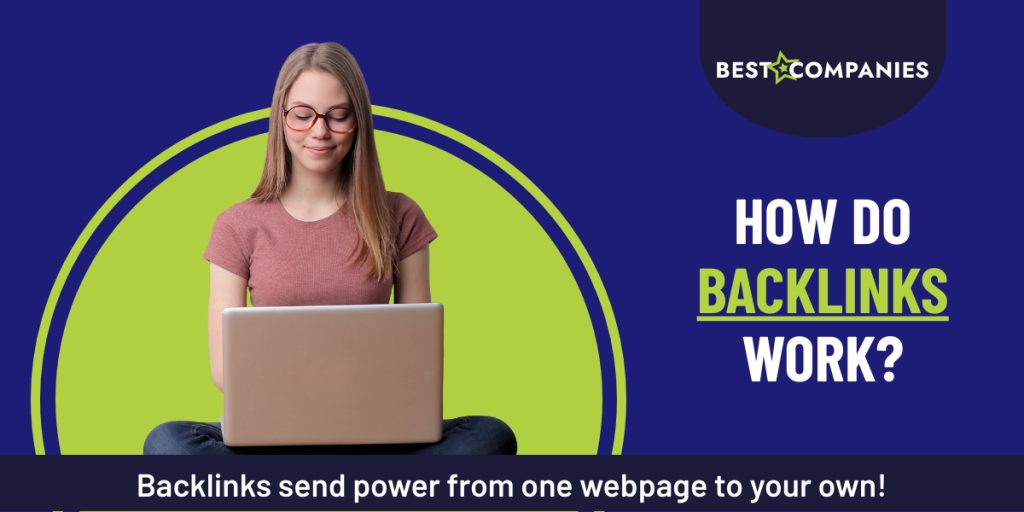 High quality backlinks are known to be an extremely important part of digital marketing, and having a strategy in place for your website is where to start.
Why Your Business Needs a Back Linking Strategy?
Your business needs a back linking strategy in order to determine the best and most efficient way to carry out your link building campaign.
Many companies end up link building without a clear, structured plan in place that's backed up by real data from real websites, which can lead to over-spending, or acquiring links from the wrong places and websites.
Having a plan together for your link building campaign can be the difference between struggling to push your keywords to the top of Google and ranking at the top of the SERPs for your chosen key phrases.
What is Backlinks Process After Buying a Link Building Service?
The backlink process after you have purchased a link building service is:
Provide URLs you want the backlinks to be pointed to
Provide Anchor Text to be used for the hyperlinks
Link building agency will start "Campaign Planning" to prepare for outreach
Start "Manual Outreach" to source the highest quality sites related to the topic
Negotiate a "Price" for link insertion or new article to be created
Create quality content for the link to look natural
Report all backlinks built with URLs and proof of anchor texts
Why Does Link Building Take So Long?
Link building takes a long time because you need to build relationships to acquire the highest quality links.
Purchasing 10,000 links from a Fiverr gig is not going to see an increase in rankings and business owners need to understand link buying is a long-term investment.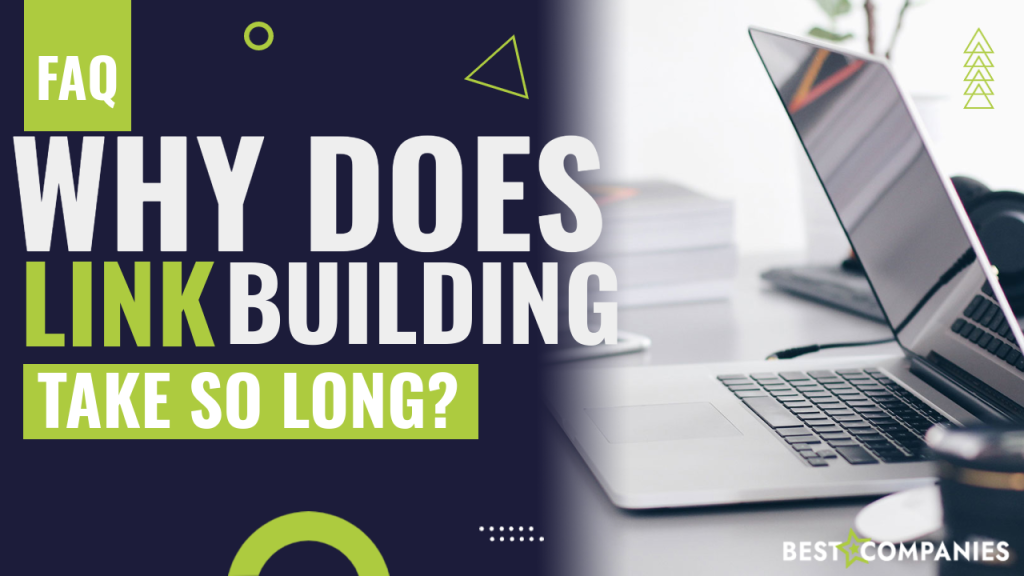 The best link building providers conduct thorough research of your industry, keywords and competitors to craft a bespoke strategy that works for your website.
The link building outreach team builds relationships with influential journalists, bloggers and editors to host your links.
Even after the backlinks have been placed the website might only start noticing any lifts in rankings 2-3 months after the links go live.
How Many Links Do I Need?
The answer to how many links do I need is varied, as this can depend on many factors, from your the difficulty of the keywords you want to rank for to your current backlink profile as well as your competitors.
It's easier to take each keyword as it comes when considering how many links you need to rank, analysing how its niche, the difficulty, your competition and more prior to building any links out.
In doing this, you will be able to work out exactly how many links you need to help rank your website, however, actually working this out yourself can be a bit tricky.
Cost of Buying Backlinks
The cost to buy backlinks in 2022 is around $200-$500 for a high quality Guest Post link and $150 -$300 to buy links to be placed on relevant sites with power.
The cost of buying backlinks will vary hugely depending on a number of factors such as:
The Domain Rating (DR) of the site.
How Topically relevant this needs to be.
The number of links you are buying (cheaper for a package)
When you are looking to buy links, it is important to deal with a reputable company who have honed their link building strategies over a number of years.
Why Is My Competitor Ranking Better Than Me With Fewer Links?
Your competitor may be ranking better than you for several reasons, including their backlinks being much stronger, more relevant and less spammy than yours.
Analysing the quality of your competitors links and comparing them to your own is usually a good way to determine why their backlinks are having more of an effect.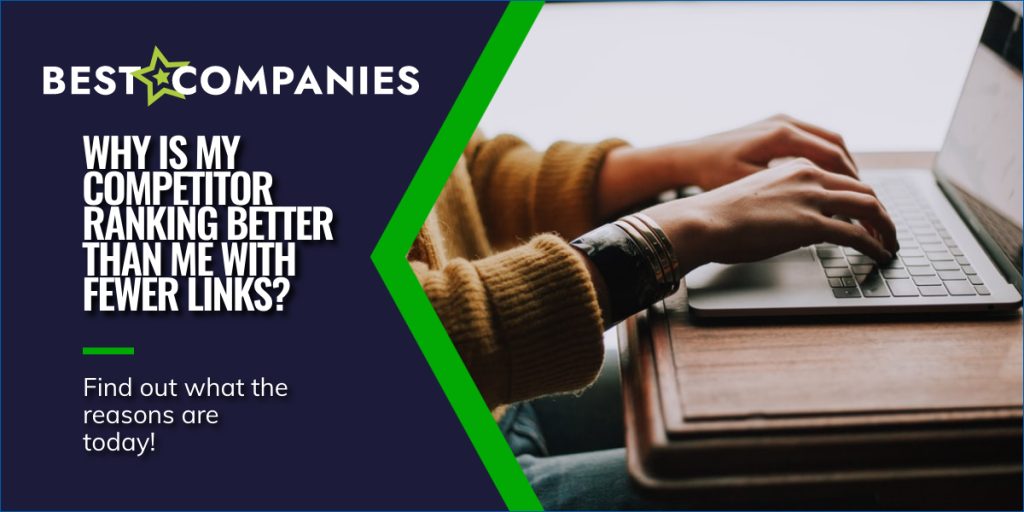 Additionally, external factors such as their website's age, content quality and website speed may also be playing a part in why your competitors outrank you with fewer links, too.
How Many Links Does My Competitor Have?
The best way to find out how many links your competitor has is to use backlink analytics tools such as ahrefs, Semrush, Moz and Majestic and directly analyse their existing backlink profile.
These tools can present website owners with valuable information regarding their competition's link building campaigns, from the number of links to their relevance, power and quality.
Using this data, website owners can then create a clear picture of what's needed to improve their own sites within their specific industries.
What is Domain Authority
Domain authority is a metric coined by popular backlink analysis tool Moz, and refers to the quality of an entire domain.
This metric is scored from 1 to 100, 1 being the poorest domain authority score and 100 being the best.
Domain authority is scored by analysing the sites' existing backlink profile across the board, from links to the home page, and all inner pages.
What is Page Authority?
Page authority is a metric from the backlink analysis tool Moz, and refers to the quality of a specific page of a website.
This metric is scored from 1 to 100, 1 being the poorest domain authority score and 100 being the best.
Page authority is scored by analysing a specific page of the sites' existing backlink profile, meaning every page on the site has its own personal page authority.
What is Trust Flow?
Trust flow is a metric offered by website analysis tool Majestic and refers to the trust of a page or website.
This metric is scored from 1 to 100, 1 being the poorest trust flow score and 100 being the best.
Trust flow is determined by how trustworthy the links pointing to the site are.
What is Citation Flow?
Citation flow is a metric offered by website analysis tool Majestic, and refers to the influence of a page or website.
This metric is scored from 1 to 100, 1 being the poorest trust flow score and 100 being the best.
Citation flow is worked out by calculating the number of authoritative links pointing back to a page.
What is a Follow Link?
A follow link is a backlink pointed to a website that directly passes power or 'link juice' to affect its search engine rankings.
The more authority the backlink profile has, the more power it passes.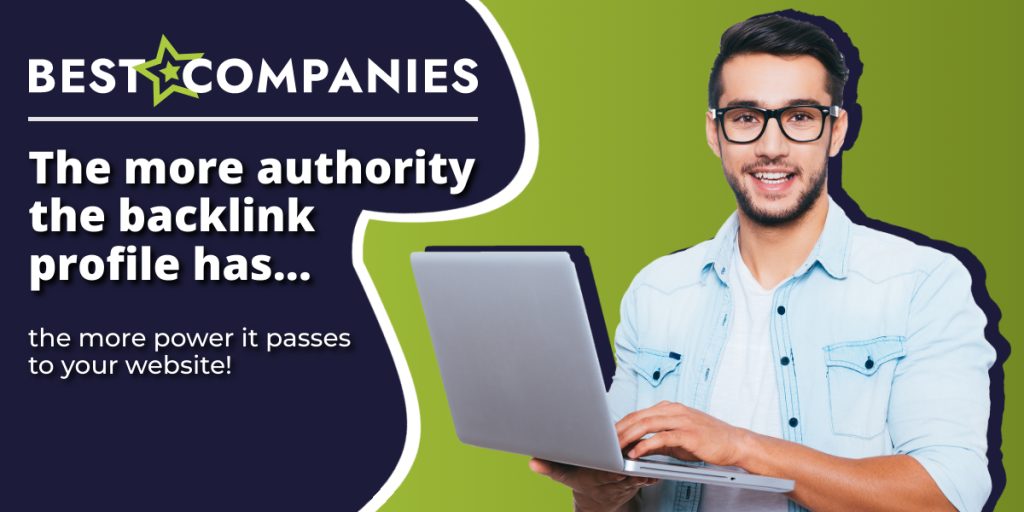 Search engine bots use backlinks to determine which web pages deserve a higher search engine rating and which do not. They keep track of who links to whom in places like blog comments, blog articles, social media, and other user-generated information.
This interlinking transfers power from one website to the next, indicating to search engines which websites have the most trust among their peers.
What is a Nofollow Link?
A backlink with the rel= "nofollow" tag has a nofollow link attribute. This tag indicates that the links have no impact on search engine rankings and are not crawled by Google.
"Don't count this" or "I don't vouch for this link" is what nofollow tags tell Google Bots. This is used to protect your backlink profile and to avoid potentially spammy practices like comment spam sections with links, link schemes, and even adding your link to irrelevant Wikipedia pages.
These tactics haven't stopped since the nofollow tag was introduced, but they have significantly decreased.
What Are Reverse Sink or Swim Links?
Reverse sink or swim links are backlinks that target the keywords that you're looking to rank for.
These links will often include keywords in the title, URL, and content, and can be used aggressively, by adding in variations of keywords within these sections as well.
Aggressive reverse sink or swim is a proven ranking technique that helps to tell Google exactly what your website is about through hyper-relevant backlinks.
Google's Stance On Buying Backlinks
Most SEO experts will tell you that paid links are prohibited by Google but this isn't entirely true. Paid links are a natural component of the web economy, according to Google.
"Not all paid links violate our guidelines. Buying and selling links is a normal part of the economy of the web when done for advertising purposes, and not for manipulation of search results." Google
Buying links solely for the goal of passing PageRank is something Google opposes. This manipulation includes buying (or selling) links to manipulate search engine rankings.
Paid backlinks have the potential to make or break your website, but you must obey the guidelines. Avoid low-quality links, don't violate Google's guidelines and risk being punished, avoid spammy outbound links/ anchor texts, and make sure your links are topically relevant.
Conclusion
When looking to purchase quality backlink packages you need to assess the links the provider is offering.
Your website might have thousands of pillow links or foundation backlinks and just be needing the really high DR powerful links pointing to your site.
Or you could be slightly over optimised on anchor text ratios and need to set minimum criteria of DoFollow links to only have branded links or naked URLs.
The trust might be lacking where you need more social media signals or trustworthy links from websites close to the web link graph.
If you are buying the premium blogger outreach backlink service you need to make sure the links are built using a 100% manual outreach strategy, which means zero PBNs or Link Farm Schemes.
When you carefully map out your link buying plans and do your due diligence on choosing the best link vendors like High Rise Links or Searcharoo you know you are in safe hands with a team of specialist search engine optimisation experts running the business.
Popular Questions
Is buying backlinks legal?
Buying backlinks is not illegal in a court of law.
But buying backlinks is against Google's Webmaster Guidelines and if spammy techniques are carried it can lead to a Google penalty of your website rankings if you get caught.
When using a specialist link building vendor they will understand the dangers of link building and be able to mark up certain backlinks with "sponsored" code.
Is Fiverr good for backlinks?
Purchasing backlinks from Fiverr is not a good link building strategy in June 2022.
Many SEOs try to cut corners by buying cheap backlinks from Fiverr and most gigs are simply a waste of your money.
Some Fiverr gigs for SEO can work and it is about researching the reviews and testimonials of previous customers.
Are backlinks safe?
Backlinks pointing to your website act as votes of trust and recommendation to the Google Algorithm.
When executed correctly backlinks are safe and hugely beneficial for improving SEO rankings.
A good link building agency will provide backlink packages that are reliable, trustworthy, and foolproof.
Should you remove toxic backlinks?
You should remove any toxic backlinks pointing to your domain.
You can remove the high toxicity links by using the disavow tool in Google Search Console.
Toxic or unnatural links can negatively impact the SERP rankings of the website.
Non-removal of toxic backlinks to your website can also invite a Penguin penalty.
Penguin penalties can cause your SEO rankings to drop dramatically in the SERPs.
Related Link Building Posts
Here is the full list of the link building posts:
The top-rated link building company reviews were updated in June 2022.